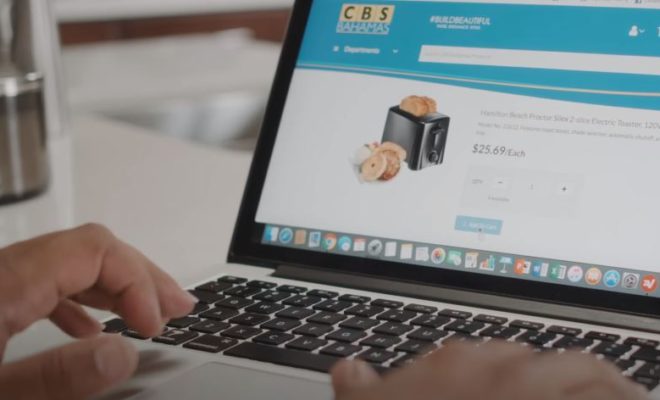 © Photo by CBS Bahamas / cbsbahamas.com
Bahamian Retail and Distributor Launches New Ecommerce Website
By /
Story of how CBS Bahamas somehow survived the health crisis lock-down with the help of ecommerce platform for home improvement and building materials.
The world health crisis has changed the way the world does business. Both local and international organizations have momentarily or permanently closed because of the pandemic.
Companies had to get creative to keep operating and stay profitable or at least break even. However, challenges also provide opportunities.
Some companies have shifted their attention to their online business. Customers are changing their habits from going to brick and mortar stores to online shopping.
This provides businesses with a chance to generate revenue despite restrictions.
Commonwealth Building Supplies Ltd is one such company that is leveraging their online presence despite the pandemic.
Building contractor Carl G Treco established the company in March 1973. CBS only had two distributorships and six staffers during its early years. The company has grown exponentially over the decades.
They are now the country's leading installer and supplier of architectural building products for residential and commercial market niches. Other than this, they are also the biggest retailer for home improvement needs.
Launching the newest online shopping website for Bahamian Customers
CBS Bahamas has adapted to the times and needs of customers. The company has recently launched their new website.
When asked if the company is able to operate in this digital environment.
"Yeah, most definitely. We are actually quite prepared in this new digital economy. We've been working on creating our online shopping platform for over a little over a year now. ", says Brent Burrows II, eCommerce Manager & Brand Strategist at CBS Bahamas.
"This was something that we are focused on long before the health crisis. Our original goal is to launch it in march during our anniversary and then the lockdown came up and hamper our plans a bit."
The site has the products and services a customer might need for home improvement or construction projects of any size. They can find the following:
Bath, shower and spa products
Service and installation
Commercial glass and aluminum
Flooring
Paint center
The products sold online are top quality and the services rendered are first-rate. Some of the vendors customers will find online are Kohler, Kawneer, Valspar, Mohawk, Moen, Steelcraft and Wilsonart just to name a few.
The One-Stop-Shop program provides customers with discounts when they cross-shop with other departments to complete their projects.
A project manager will assist them with the details and recommend products and services that a customer may need.
The team undergoes continuous training to learn each product inside and out. They use their knowledge to assist customers and answer possible questions about their purchases.
They will also recommend or suggest items one may need for a project.
To learn more about available products and services, please visit www.cbsbahamas.com.