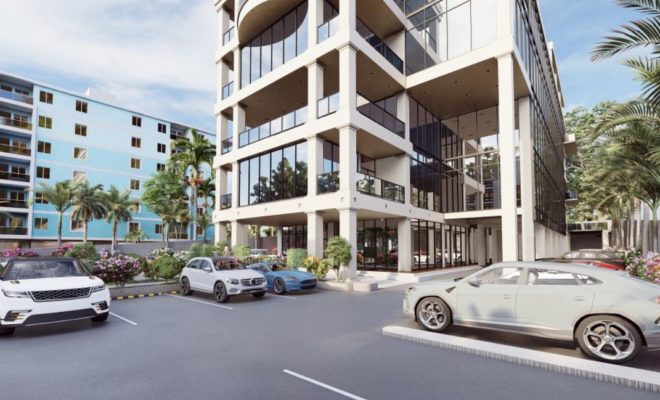 © Rendering of now under-construction LENO Corporate Centre; ground floor view. / Source: Leno Realty, Ltd.
CBS Bahamas a Vital Player in All-Bahamian Leno Corporate Project Costing $25M
By /
CBS Bahamas will be a vital subcontractor on the under construction Leno Corporate Centre Complex.
The project broke ground in the first quarter of 2020. This $25M venture is considered "the single biggest boost to Bahamian contractors in years."
The owner, all-Bahamian company Leno, is determined to finish the project with only Bahamian-owned businesses and subcontractors.
"Speaking for CBS (Bahamas Ltd), we have done a lot of jobs, but this is the largest we have done for an all-Bahamian-owned company in a very long time, and we are very excited to be part of this project. It is an economic boost that is very welcomed and needed," said Brent Burrows, CBS Bahamas Vice President, in a statement.
CBS Bahamas will supply and install:
Exterior glass and glazing
Interior glazing
Interior/exterior glass
Aluminum doors
CBS Bahamas is an industry leader in the supply and installation of architectural building products in commercial and residential markets. They specialize in high-end impact resistant glass & aluminum solutions.
CBS will partner with Kawneer Architectural Aluminum Products for the supply & installation of the Kawneer 1600 Wall System®1 Curtain Wall for the exterior glazing package.
This first-rate Curtain Wall system offers reliable and versatile features.
The product is stick fabricated and has a pressure glazed curtain wall. This is ideal for low to mid-rise applications and is made for independent use or as part of an integrated system.
The Hurricane Resistant 1600 Wall System®1 Curtain Wall is another top quality product. It is an impact-rated 2-1/2 in sightline curtain wall system that provides an extra line of protection against strong winds, hurricanes and heavy rains.
This Curtain Wall system has an approved impact code in Miami-Dade County. The latter has the highest wind-borne debris standard in the world.
CBS Bahamas has been representing the Kawneer brand for nearly five decades. They have built a strong reputation as the most qualified Bahamian company that installs high-end Curtain Wall systems.
The Leno Corporate Centre project will also use products from other first-rate suppliers like:
Oldcastle BuildingEnvelope
PGT
SteelCraft
John Treco, CBS Bahamas President & Managing Director, is brimming with excitement for the opportunity to showcase the capabilities of the company.
"Many people don't realize just how many commercial projects CBS Bahamas has been a part of over the years. Our name is well trusted in the building community. We aren't just known for providing top-quality hurricane rated products, but for also installing them with extreme attention to detail," said John Treco.
Leno is a Bahamian company that provides financial services. After the completion of the project, the Corporate Centre Complex will create 50,000 sq ft of office & common area space for different occupants.
The project created approximately 50 jobs for Bahamians, along with several other Bahamian subcontractors that are a part of the construction & completion.
Kelly's House & Home

Shop online with Kelly's! Bahamas' largest department store with 16 departments ranging from fine china to hardware, water tanks to bath towels. Whether you're getting married, expecting a baby, painting your house or planting a garden, Kelly's has all you need. And don't forget the toys; we have the best selection in Nassau.

Shop online at Kellysbahamas.com