Roseburg Forest Products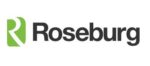 Roseburg Forest Products, based in Springfield, Oregon, US is a privately owned wood–products company. Founded in 1936, the company had approximately 3,000 employees and revenues of nearly US$1 billion in 2012. Roseburg Forest Products operates mills throughout Western Oregon, and continues to be held by the founding Ford family.
Founded in the Timber Capital of the World, Roseburg is a family-owned company that has been providing our clients high-quality wood products that enable them to meet and exceed the needs of their own customers since 1936. From our vast timberlands to our facilities and into the hands of our clients, Roseburg's vertically integrated approach ensures we are well positioned to meet the demands of the marketplace today and tomorrow.
We pride ourselves on a deep commitment to responsible management and comprehensive forest-to-finish vertical integration. Fortified by a workforce of passionate, values-driven team members, we are dedicated to growing our business by ensuring the complete satisfaction of our clients and enhancing the quality of life of our people and the communities they call home.