Hohmann & Barnard, Inc.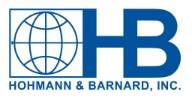 Hohmann & Barnard serves both the Commercial and Residential markets as the leading developer and distributor of reinforcement, anchoring, and moisture protection systems for masonry. Hohmann and Barnard, Inc. is also committed to the environment, offering a complete line of green products for sustainable masonry structures.
These include: masonry reinforcement and wire ties made from post-industrial recycled material, flashings and mortar control products made with recycled materials, VOC and HAP free air barrier products, and re-bonded rubber and cork products.