A.W. Graham Lumber – Home Improvement & Lumber Supplier in Kentucky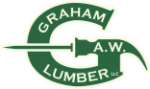 At A.W. Graham Lumber, LLC in Flemingsburg, KY, their team has provided contractors and DIY enthusiasts with first-rate, quality lumber products and building materials for more than 20 years.
As a full-service building supplier, A.W. Graham Lumber has hundreds of products that make up their extensive inventory of fencing, stone, flooring, and other building materials needed to complete any size job. Boasting some of the most affordable prices on lumber, roofing, and plywood and OSB, they have everything you need to build any structure, from molding the foundation to finishing out the trusses.
Home of Dirt Cheap Prices! Shop for the best-quality dimensional, treated lumber, dirt cheap lumber, vinyl siding, hardwood flooring, metal roofing, studs, knotty pine, windows, vinyl flooring, kitchen cabinets, hardware, bathroom vanities, Advantech, doors, framing lumber, and other quality home improvement materials at the lowest price. Located at the junction of Highway 57 North and Maddox Pike in Flemingsburg, Kentucky, USA.
See full list of products offered by AW Graham Lumber: 2×4 lumber, 2×6 lumber, 2×8 lumber, 1×10 lumber, 1×12 lumber, 5/4 x 6 lumber, 6×6 lumber, 1×4 lumber, 1×6 lumber, 1×3 lumber, 2×2 lumber, 4×4 lumber, 2×10 lumber, 2×12 lumber, 4×6 lumber, 4×8 lumber, 1×8 lumber, 1×2 lumber, automotive , barn door accessories, bathroom cabinets and vanities, cabinet hardware, cargo containers, cedar , columns post and railings, construction hardware, door hardware, drill bits and drivers, drywall, electrical , entry doors, farm items, fencing , flooring, garage doors, generators, gift cards, gloves, eyewear and toolbelts, guardrail, guttering , hand tools, hardware , plywood hardwood , heating and cooling, screws machine and wood , screws tapcons and concrete anchors, housewares, insulation foam board, insulation cellulose (blow in), insulation fiberglass, interior doors, pine lumber, knotty pine lumber, kitchen cabinets and accessories, ladders and scaffolding, landscaping , spruce-pine-fir spf framing lumber, southern yellow pine (syp) framing lumber, rough sawn pine lumber, treated lumber, masonry products land tiles, metal roofing and accessories , moulding and trim, nails box, nails bulk, fasteners, nails pneumatic, lawn and garden, paint and sundries , power tools, osb , outdoor screws, plumbing department, plywood unfinished, pocket knives, power tools and acessories, roofing shingles, roof vents/boots, rough hemlock, saw blades, shelving and accessories, steel rebar and shapes, larson storm doors, studs and precut framing, trusses, mount blocks and gable vents, vinyl siding, windows, and many more serving the surrounding regions of Kentucky, Ohio, Indiana, and West Virginia.
Adhesives
,
Bath Cabinets
,
Bathroom
,
Boards
,
Building Material Store
,
Building Materials
,
Building Products
,
Ceiling Tile
,
Composite Roofing
,
Composites
,
Concrete Tools
,
Cutting Tools
,
Decking
,
Doors
,
Electrical
,
Exterior Doors
,
Exteriors
,
Fence & Railing
,
Fiberglass Doors
,
Flooring
,
Hand Saws
,
Housewrap
,
Insulation
,
Insulation & Infiltration Barriers
,
Kitchen & Bath
,
Moulding
,
Roofing
,
Safety/Worker Gear
,
Specialties
,
Structural