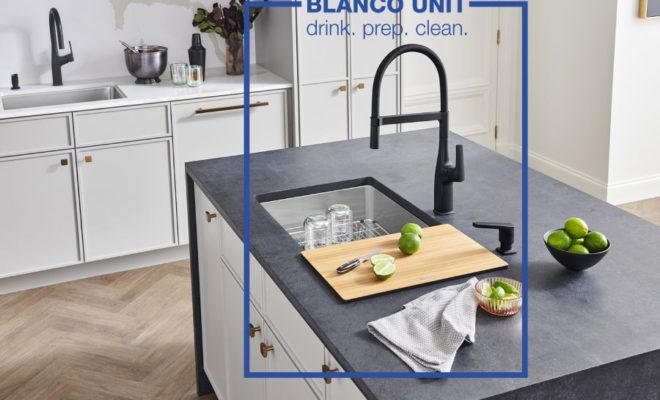 © BLANCO
BLANCO Shares UNIT Insights to Make Kitchen Design and Planning Easier
By /
BLANCO, the premium kitchen solutions brand backed by industry-leading German engineering, is proud to introduce three inspiring BLANCO UNITs to help streamline the kitchen planning process as homeowners invest more in modernizing their kitchens.
According to the National Kitchen & Bath Association, kitchen renovations will remain the most popular for the second year in a row, with a 19 percent increase in industry spending.
A BLANCO UNIT makes it simple to configure an efficient and stylish kitchen water hub with the brand's extensive portfolio of sinks, faucets, accessories, and organization systems that integrate into one seamless solution.
These three UNIT concepts have been curated by BLANCO kitchen experts with over 95 years of experience and are inspired by 2022 interior design and lifestyle trends to simplify renovations and make kitchen life easier.
"Kitchen design can be a difficult process with numerous important decisions to make. Our BLANCO UNIT inspirations serve as a foundation for customers to customize based on their specific household requirements "Edyta Drutis, BLANCO's Director of Brand & Communications for North America, concurs.
"The integrated system delivers style and performance, transforming everyday chores into more joyful experiences and ultimately optimizing kitchen workflow."
Color-coordinated Unit with SILGRANIT
A stunning color-coordinated BLANCO UNIT begins with a Silgranit sink and matching faucet to create a unified look that emphasizes streamlined design. The nature-inspired colors of Silgranit allow you to customize the level of color with a kitchen sink and faucet combination that complements your personal style.
Try full or dual finish options, which come in three distinct faucet styles, all of which save water. The BOTTON II, which adds under-sink cabinet organization, completes the look. A color-coordinated BLANCO UNIT provides complete design freedom, allowing you to realize your dream kitchen.
Semi-pro Unit for Home Chefs
This BLANCO UNIT combines function and style, and is designed to optimize workflow so home chefs can focus on the recipe at hand. The RIVANA faucet is part of BLANCO's semi-pro faucet portfolio, which also includes powerful pressure sprayers, flexible spring coils, and quick snap magnetic docking arms.
Combining bold semi-pro kitchen faucets, stainless steel or Silgranit workstation sinks, and organizational storage creates a professional-grade experience. This UNIT can be further customized with ergonomic accessories such as grids, baskets, and cutting boards to facilitate meal preparation and cleanup. Your culinary experience will be enhanced by a semi-professional BLANCO UNIT.
Modern Farmhouse Unit
BLANCO offers a variety of farmhouse sink styles that serve as a gathering place for busy families, with the kitchen being the heart of the home. Choose from several timeless farmhouse sink options made of three durable materials: Silgranit, stainless steel, and fireclay to achieve that classic farmhouse look.
Finish this custom kitchen sink workstation with an elegant faucet of your choice and the BOTTON II for additional under-sink storage, which is available in a variety of finishes ranging from vintage to modern silhouettes. When it comes to family dinners and Sunday baking, a complete farmhouse BLANCO UNIT can make all the difference. You can turn everyday meal preparation into cherished memories with a farmhouse BLANCO UNIT.