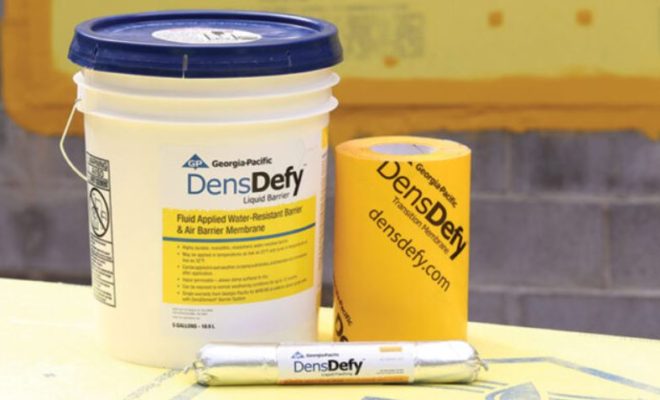 © Georgia-Pacific DensDefy Liquid Barrier
Georgia-Pacific's New DensDefy Liquid Barrier
By /
DensDefy Liquid Barrier is the latest addition to Georgia-Pacific Building Products' DensDefy line of wall sheathing barrier products.
The fluid-applied barrier is intended to provide a long-lasting, air- and water-resistant outer membrane on gypsum sheathing, wood sheathing, concrete walls, and CMU.
The DensDefy Liquid Barrier is a single-component, monolithic, elastometric, STP-based water-resistive barrier and air barrier that is meant to keep water and air out.
The coating cures quickly, even in wet environments, and is vapor permeable, allowing damp surfaces to dry.
The solution is designed to function alongside Georgia-existing Pacific's sheathing products, such as the DensElement Barrier System and ForceField Weather Barrier.
Together, the products form a long-lasting protective layer on a variety of substrates, including Georgia-DensGlass Pacific's Gold Sheathing.
"DensDefy Liquid Barrier helps architects design effectively using a system of high-performance products, designed to work together," Georgia-Pacific Building Products' vice president of marketing and product management, Jason Peace said.
"For our general contractor friends, the inherent benefits of STP technology can provide labor and time savings, and, when coupled with full manufacturer support, the DensElement Barrier System and DensDefy Products simplify a highly fractured market."
The product is applied using a roller or a spray, and no further trades or tools are required.
It is compatible with many existing sealants and waterproofing accessories, and it bonds to the majority of common materials without the need for priming.
It can be applied in wet weather and on damp substrates, as well as at temperatures as low as 25 degrees Fahrenheit, and it cures at temperatures as low as 32 degrees Fahrenheit.
The barrier can withstand rain instantly and can be exposed to the elements for up to 12 months.