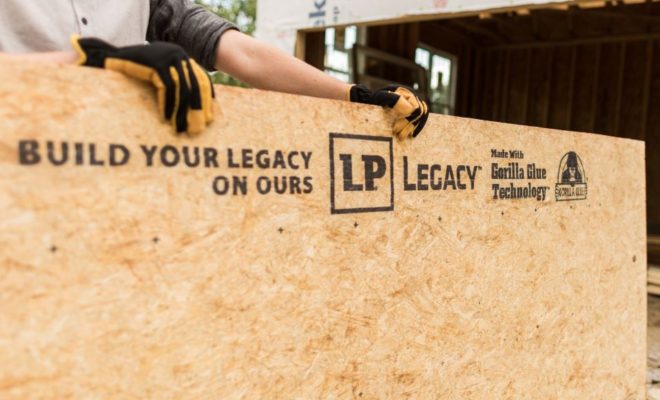 © Photo by LP Building Solutions / lpcorp.com
LP tests its sub-flooring to strengthen Legacy
By /
Since LP Legacy® premium sub-flooring's launch, LP has put the products through meticulous or even extreme testing.
These go beyond industry standards to measure and highlight the product's superior features.
This cause continued at the University of Maine Advanced Structures and Composites Center.
Wood scientists put LP Legacy panels to the test with plywood and commodity OSB.
They put them in a four-phase, 14-month long study customized to replicate the possible extremes of wear in a house or construction site.
"Typical tests for OSB look at strength and stiffness; they're usually really quick and can be done in a lab in an hour. But none truly emulate the conditions you're going to see in the real world," says Brian St. Germain, Director of Technology at LP.
"What we're trying to do with this testing is to show builders that this high-performance OSB panel will actually perform better."
The study's four phases include:
The wood scientists created small-scale floors of oak hardwood flooring attached to the sub-floor and removed with a customized jig to test fastener holding capacity.

LP Legacy scored better on withdrawal capacity than the other subjects by 35%.

The scientists put the subjects through a simulated rainstorm for eight hours.

They then returned the panels to their original moisture level for 48 hours and then ran the test two more times.

LP Legacy took 2.5 longer to absorb the moisture than the other subjects. It also fared higher in fastener holding capacity.

During the 3rd phase testers replicated seasonal moisture levels that occur in many houses by sampling from the 2nd Phase wetting cycle.

They also cycled between moisture extremes using a conditioning chamber and attached hardwood flooring.

After almost a year, the LP Legacy's product displayed no substantial dimensional changes.

The final phase saw the panels undergo a 50,000-step-load test.

The scientists checked for squeaking floor and the withdrawal capacity of fasteners after exposing them.

After four phases, LP Legacy retained its fastener capacity.
"After all of the exposures, the repeated wetting, the repeated hydrothermal cycling, and the repeated loading, the fastener capacity of Legacy OSB has virtually remained unchanged," reports Benjamin Herzog, a Wood Technologist for University of Maine who was part of the team that conducted the tests.