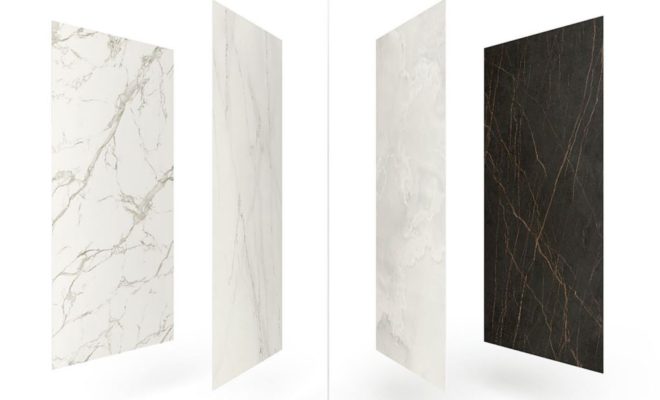 © Photo by Cosentino / cosentino.com
Cosentino's Dekton Slim Format now has Four New Colors
By /
Cosentino has added new color offerings for its Dekton Slim surfaces.
These four additions from the Dekton 2020 and Natural Collections create a total of 20 color choices.
These are available for the ultra-thin 4-millimeter format.
"In today's market, materials that provide a creative edge and save time in installation are paramount," says Massimo Ballucchi, director of marketing for Cosentino Americas.
The Dekton 2020 collection's color options include:
Helena draws inspiration from natural onyx with its cloudy-white gray pattern.
Laurent draws inspiration from natural Port Laurent stone characterized by a dark brown background with gold veins.
Rem has minimal veining and the looks of white marble.
Aura15 draws inspiration from Carrara and Calacatta marble with its white background and dark veins. It is available in the Natural Collection.
"We continue to be so inspired by how design professionals use Dekton Slim to infuse striking elements in their residential, commercial, and hospitality projects and are excited to expand the color offerings to include some of our most sought-after hues," continues Massimo Ballucchi.
Across all formats, Dekton combines raw glass, quartz, and porcelain materials, which provide UV, scratch, stain, and thermal shock resistance characteristics.
Customers can buy each surface in 3,200-by-1,440 millimeter slab sizes.
This reduces the joints necessary for larger applications.
Experts recommend the Dekton Slim surface format for use in cabinetry doors and drawers, furniture, wall cladding and backsplashes, and others.