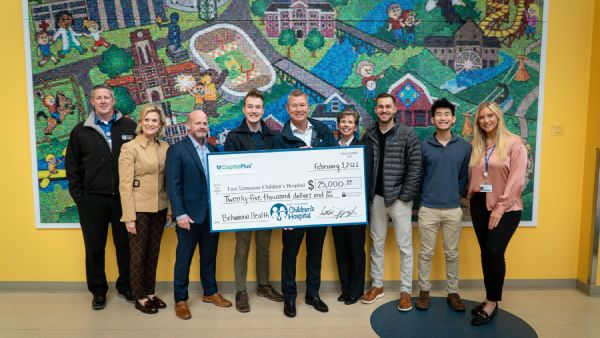 © CapitalPlus Construction Services
CapitalPlus Construction Services Sponsored East Tennessee Children's Hospital's Crisis Management Room
By /
The monies were contributed by a Knoxville, Tennessee-based construction financing company to assist build a safe haven for neighborhood youngsters and their families.
On Thursday, February 3, CapitalPlus Construction Services, a leading provider of accounts receivable and material financing for construction companies, general contractors, subcontractors, and disaster recovery providers, donated $25,000 to East Tennessee Children's Hospital to sponsor a behavioral health crisis management room.
The donation will benefit a room in the hospital's newly refurbished Emergency Department's specialized behavioral health care department, which will serve as a safe haven for patients getting treatment or awaiting inpatient placement.
The CapitalPlus/Applegate Family Room has been renamed.
"We have had multiple employees who have benefitted from the availability of specialized rooms at East Tennessee Children's Hospital," Scott Applegate, president of CapitalPlus Construction Services stated.
"These behavioral health crisis management rooms provide a calming space filled with compassion for the young people and their families who are going through a difficult time in their lives."
"We hope this will provide them with the help they need."
On Thursday, Applegate and his team delivered the check to Wade Creswell, director of development at Children's Hospital, and his colleagues.
Following the presentation, the CapitalPlus team was given a tour of the facility.
"Children's Hospital is all about helping children heal and that includes focusing on a child's mental well-being," Wade Creswell said.
"Behavioral health visits to our Emergency Department have increased nearly 60% during the last year alone."
"A mental health crisis is one of the most vulnerable times for a child and their family."
"This generous donation from CapitalPlus will enable us to continue caring for more children, in the safest possible way, while they focus on getting better."
Over the last year, there has been an increase in visits to the emergency room for mental health issues at Children's Hospital, and hospital officials say they are focused on the long-term solutions that these crisis rooms assist deliver.
"Many of our employees also have family members who work in healthcare, so we have learned how these rooms can be of immense benefit to the medical staff in our community," said Applegate.
"We hope this provides some relief to families in crisis and the hospital staff who work with them."