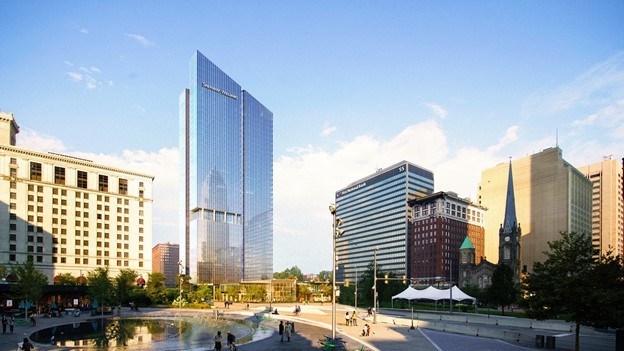 © Sherwin-Williams
Sherwin-Williams Celebrates the Official Start of Construction on New Global Headquarters
By /
A one-million-square-foot facility in downtown Cleveland is scheduled to open in 2024.
The Sherwin-Williams Company is pleased to announce that a virtual celebration was conducted today to commemorate the official start of work of the Company's new global headquarters.
The 1,000,000-square-foot building will be built in downtown Cleveland, Ohio, and will contain a two-story pavilion that will serve as the front porch to Public Square, a 36-story office tower, and an adjacent multi-level parking garage.
John G. Morikis, Sherwin-Williams Chairman, President, and Chief Executive Officer said, "today's event represents a significant milestone in this transformational project."
"As construction workers, equipment and materials have been arriving at our building site in the heart of the city, we could not be more excited about the investment we are making in the future of our Company and the future of Cleveland."
"We are creating a next-generation workplace to serve our customers, retain and attract employees, as well as offer opportunities to celebrate the Sherwin-Williams brand and act as a catalyst for future development in and around our new campus."
The new headquarters is part of the Company's larger Building Our Future project, which also involves the development of a new 600,000 square-foot Research & Development (R&D) Center in Brecksville, Ohio, which is set to open in October 2021. Sherwin-Williams intends to invest at least $600 million in both the headquarters and the R&D site.
"Attracting and retaining organizations like Sherwin-Williams is critical to the short- and long-term success of our city, region and our surrounding communities," Cleveland Mayor Justin M. Bibb said.
"We applaud the decision Sherwin-Williams made to further invest in Cleveland and in Northeast Ohio by building world-class facilities for the workforce of the future."
Their steadfast commitment to the area is an example of how the City of Cleveland will further establish itself as a destination for investment, job creation, and top talent recruitment."
Together, the two sites will hold around 3,500 personnel, with flexibility for future expansion.
Sherwin-Williams expects to add at least 400 jobs at these plants over time, representing an 11 percent increase in the Company's current local workforce.
Many of these positions will be filled by professional employees, engineers, and chemists.
"The positive economic impact generated from Sherwin-Williams over these past many decades is unprecedented," Cleveland Council President Blaine Griffin stated.
"Sherwin-Williams continues to be an important part of Cleveland and Northeast Ohio through their ability to provide good jobs, strong community support, and robust economic activity for years to come."
"We have been incredibly fortunate to have Sherwin-Williams be part of our community for more than 155 years," Ohio State Senator Sandra Williams added.
"Together, the new headquarters and R&D Center will have a significant and long-lasting impact on our region."
"This project represents a successful public/private partnership whereby the State of Ohio, JobsOhio, Cuyahoga County, the Cleveland-Cuyahoga County Port Authority, the City of Cleveland, and the City of Brecksville all worked together with Sherwin-Williams to provide support in the way of economic development packages which, in part, reflect the retention and addition of a significant number of jobs."
Sherwin-Williams was thrilled to have several public and private figures offer statements during the celebration, in addition to Mayor Bibb and Council President Griffin.
They included U.S. Rep. Shontel Brown, Ohio State Rep. Terrence Upchurch, Cleveland City Councilman Kerry McCormack, and Pickard Chilton architect Bill Chilton.
Due to a last-minute schedule conflict, Ohio State Senator Williams was unable to attend.
The new global headquarters is scheduled to open by the end of 2024, creating 4,000 construction jobs.
Sherwin-Williams has extended its corporate inclusion, diversity, and equity commitment to the two facilities' construction.
The Company has created and is implementing a planned, intentional, and fair procedure to incorporate minority-owned, female-owned, and small firms, which has already resulted in the awarding of many contracts worth millions of dollars.
Sherwin-Williams continues to work proactively with the community, municipal, county, and state officials, local groups, and trade partners to seek more opportunities for involvement, and the company plans to provide a significantly diversified workforce on the project over the next three years.