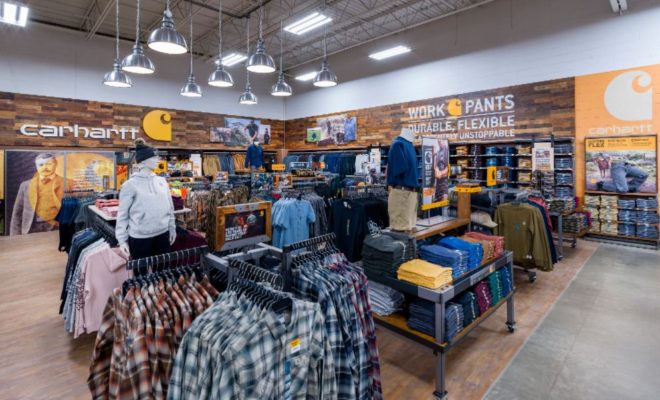 Tractor Supply Company to Increase Carhartt's Presence in More Than 100 Retail Locations
By /
Tractor Supply Company has stated that it intends to expand its Carhartt offering in dozens of stores. This year, more than 100 Tractor Supply stores will get a new Carhartt store-in-store concept.
The farm and ranch retailer intends to expand its Carhartt-branded in-store shopping space by several thousand square feet.
The "shop-in-shop" concept of the workwear brand is currently available in ten Tractor Supply locations and will be expanded to more than 100 Tractor Supply locations by 2021. The Carhartt package will be extended to an additional 25 stores in 2022.
Seth Estep, Tractor Supply's executive vice president, and the chief merchandising officer stated "Our Tractor Supply stores offer a unique assortment of products that cater to the Out Here lifestyle, and we know our customers depend on Carhartt for comfortable, durable clothes to get the job done."
Estep stated that by partnering with Carhartt to double selection, stores will have "even more of what makes Tractor Supply a destination for everything – workwear and otherwise – that our customers need to take care of their home, land, pets, and animals."
"This new store-within-a-store format was created with Tractor Supply's customers at the center of the shopping experience." Estep continued.
The expanded merchandise selection available in the in-store shop includes bibs, rainwear, year-round fleece assortments, additional pants and jeans styles, and other products.
Additionally, the product line will include clothing for women, children, big and tall, and plus sizes, the majority of which are not currently available in Tractor Supply stores.
Both brands put this strategy to the test in 2018 and 2019, with Carhartt installing three shop-in-shop spaces each year at Tractor Supply locations in California, Kentucky, Michigan, New Jersey, and New York, ranging in size from 1,200 to 1,400 square feet.
The expanded in-store shops have the same signage, branding, and premium fixtures as any of Carhartt's 33 company store locations.
Tony Ambroza, Carhartt's chief brand officer, in a statement, "By expanding our presence at these retail locations, Tractor Supply shoppers will experience the Carhartt brand in a whole new way. We look forward to growing our longstanding partnership with Tractor Supply as we work to bring our rugged workwear products to the country's hardest-working people."
Tractor Supply, headquartered in Brentwood, Tennessee, operates over 1,900 stores as well as 182 Petsense locations.
Kelly's House & Home

Shop online with Kelly's! Bahamas' largest department store with 16 departments ranging from fine china to hardware, water tanks to bath towels. Whether you're getting married, expecting a baby, painting your house or planting a garden, Kelly's has all you need. And don't forget the toys; we have the best selection in Nassau.

Shop online at Kellysbahamas.com