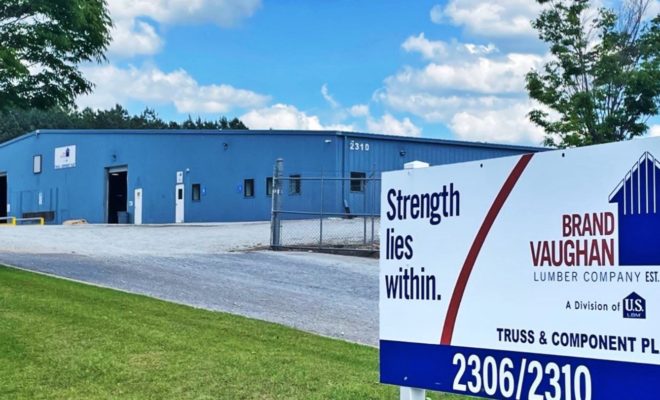 © Brand Vaughan / US LBM / New floor and roof truss manufacturing facility in Lithonia, GA
US LBM Expands in Atlanta with New Floor & Roof Truss Manufacturing Plant
By /
US LBM, a specialist building materials distributor in the United States, has opened a new floor and roof truss manufacturing facility in Lithonia, Georgia.
The new site is part of US LBM's Brand Vaughan business and provides floor and roof trusses to residential and commercial builders in the surrounding Atlanta area.
The new 25,000-square-foot truss factory has one roof truss line and one floor truss line, as well as in-house design and the utilization of computerized saws and technology for correct truss set up and profiles.
In addition to the new truss factory, Brand Vaughan runs seven locations in northern Georgia, offering a wide range of supplies to professional builders such as lumber, engineered wood products, windows, exterior and interior doors and trim, rebar, roofing, and siding.
"Providing builders the resources they need to get the job done on time and on budget is what Brand Vaughan is known for across Georgia, and this new truss plant expands both our capabilities and commitment to our customers," Vice President of Operations for the US LBM Southeast Region, Jon Vaughan, stated.
The new Lithonia truss plant, located just outside of Atlanta in southeastern DeKalb County, is close to numerous major area highways and access points, including I-20 and the Perimeter (I-285), providing convenient deliveries to job sites throughout the region.
A.W. Graham Lumber LLC

Home of Dirt Cheap Prices! Shop for quality dimensional lumbers, spf framing lumber, stud and precut framing, syp lumber, lumber treated, Osb, advantech, zip and blue plus,, lumber pine and knotty pine, pine patterns, Fencing, fence post, fence boards, cargo containers, steel rebar and shapes, columns post and railing, kitchen cabinets, vinyl sliding, hardwood flooring, & other quality home improvement materials at the lowest price.

Shop online at Grahamlumber.com