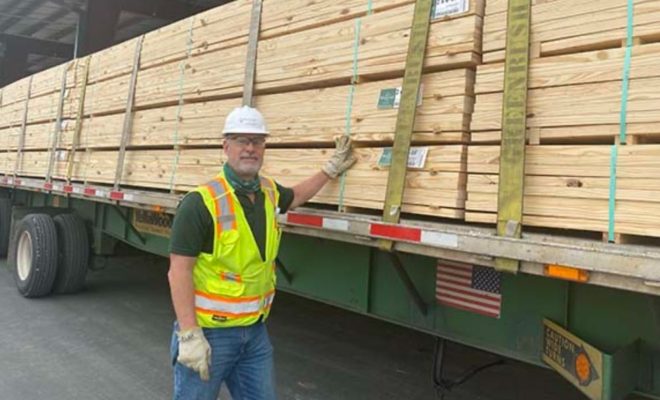 © First load of lumber purchased by Great Southern Wood Preserving left Westervelt Lumber's New Milling (Thomasville AL)
Westervelt Lumber Finished Construction Of Their New SYP Milling Facility
By /
The first load of lumber purchased by Great Southern Wood Preserving was celebrated as it left Westervelt Lumber's Thomasville, Alabama new milling facility on March 5.
The Thomasville plant will have an annual capacity of 250 million bd. ft. Its Clarke County location will benefit from the company's existing customer base and proximity to its timberland.
The 125-person workforce will be fully staffed in the coming months, as the second shift begins in the second quarter of this year.
Brian Luoma, president and CEO of Westervelt Lumber said "We just saw our first load of lumber leave the Thomasville facility, and it brings us full circle from almost two years ago when this project began as an idea and a strategy, to a fully operational mill and the shipment of our first load of lumber,".
"This is the first day of the future for Westervelt, and this is an event that changes the company." Luoma continued.
The mill, which is managed by Steve Metz, supplements Westervelt's flagship lumber facility in Moundville, Alabama.