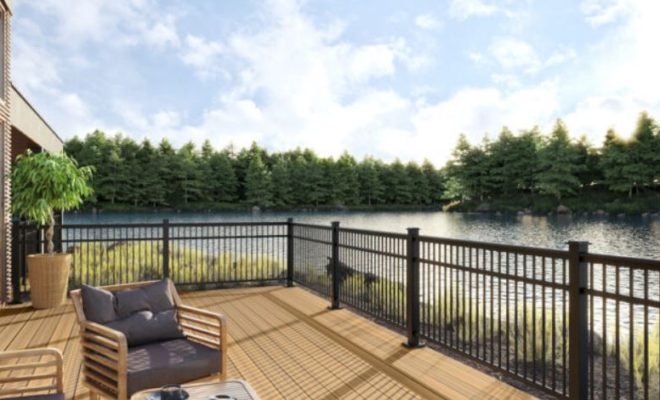 © Envision Distinction Spiced Teak with Fairway Railing in black.
Envision Building Products Introduces an Outdoor Living Collection
By /
For building professionals and their customers, the product line combines a comprehensive selection of Envision composite decking and Fairway Railing solutions.
Envision Building Products has completed the integration of Fairway Architectural Railing Solutions into the Envision family since its acquisition in December 2020, while retaining both the Envision and Fairway brand names and legacies.
With this announcement, the company has introduced Envision Outdoor Living Products.
Following the acquisition and integration, Envision Outdoor Living Products is a merger of two category leaders, with Envision's composite decking collections (Distinction, Inspiration, Expression, Ridge Premium, and EverGrain) and the Fairway Railing Collection of crafted aluminum, composite, steel, and vinyl/PVC railings, as well as accessories such as outdoor lighting, fencing, pergolas, and gazebos.
Unlike the traditional industry model, in which decking companies offer railing options but the two categories essentially function separately and among different companies, Envision Outdoor Living was developed to deliver a complete and full decking line as well as a complete and full railing line, increasing opportunities for professionals while streamlining design, specification, and installation processes.
"More robust in products and in expertise, Envision Outdoor Living Products offers a 'Total Outdoor Living Solution,' making it easier than ever for building pros to not just build a deck, but to put outdoor living at the center of home life," Shara Gamble, VP of Sales and Marketing for Envision Outdoor Living Products, stated.
"Today, Envision Outdoor Living Products is a powerful combination of industry-leading brands known for beautiful design, quality craftsmanship, and superior performance. Our robust selection of unmatched composite decking, premium deck and porch railings, outdoor lighting and accessories, and more come together to create the total outdoor living solution."
Along with the product selection, Envision Outdoor Living Products combines the collective expertise of the Envision Decking and Fairway Railing employees.
"We've joined forces to become a more powerful team overall," Envision Building Products' CEO, Bob McNally, added.
"It's more than just acquiring product lines; we're retaining the expertise that lies in the two brands' team members, and we're focused on building a single healthy team together."
Envision Outdoor Living Products now employs approximately 100 people and operates three manufacturing facilities in Lamar, Missouri, Mount Joy, Pennsylvania, and York, Nebraska.
Corporate operational headquarters have moved from Lamar to Mount Joy, while decking manufacturing operations remain in Lamar, with plans for future growth in the community.
Envision Outdoor Living Products has launched a new website, envisionoutdoorliving.com, following the completion of the acquisition.
"From the comprehensive product selection to our team's collective expertise to our technology solutions that bring it all together," Gamble continued.
"Envision Outdoor Living Products gives building pros the versatility to create what they want without compromise—to re-envision their business without limits."
Liberty Cedar

Leading top quality specialty wood products, tropical lumbers & domestic hardwoods, custom milling and flooring, trim packages, timbers and other materials serving Rhode Island, Massachusetts, Connecticut, and Long Island with excellent customer service. Delivery to other areas via common carrier.

Order online at Libertycedar.com