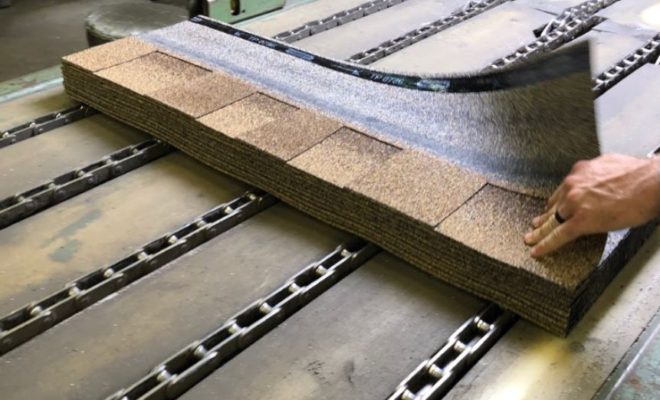 © GAF Asphalt Shingles Manufactured With Recycled Material From Post-consumer Waste Shingles
GAF Manufactures the Industry's First Asphalt Shingles Made from Recycled Waste Shingles
By /
GAF announced a new patented shingle recycling process that has successfully produced the industry's first asphalt roofing shingles made from recycled material from post-consumer and post-manufacture waste shingles that would otherwise have been landfilled.
This breakthrough marks an important milestone in the development of more sustainable, affordable roofing materials, and it has significant implications for improving sustainability and circularity throughout the roofing supply chain.
Jim Schnepper, President of GAF stated, "This latest innovation from GAF represents the first major step towards a circular economy for asphalt roofing shingles. We envision a future where every homeowner when replacing their roof, can do so with high-quality, affordable shingles made with recycled asphalt."
The new shingle recycling process reduces the number of raw materials needed to manufacture new shingles while maintaining product quality and performance.
During its successful tests, GAF was able to reclaim more than 90% of the waste shingle material by weight, which was then reused in the production of new shingles.
GAF also demonstrated its ability to manufacture new shingles that contained up to 15% recycled material and were UL-certified for safety and effectiveness. GAF was granted three patents by the United States Patent and Trademark Office for this new shingle recycling process.
GAF is investing more than $100 million to commercialize the recycling process, including the creation of a pilot operation in 2021 that will allow the company to conduct additional research and development on its process.
GAF expects to assess the maximum amount of recycled asphalt that can be used to make new shingles that meet the company's high standards through the pilot while optimizing the manufacturing process before scaling it across its operations.
Tad Radzinski, Certification Officer, GreenCircle Certified, a third-party certification organization commented, "This innovation has the potential to reduce a significant waste stream in the U.S. and represents an important advancement within the roofing industry. Through the recovery of valuable end-of-life roofing materials, GAF is setting the course to reduce environmental impacts across the shingle product life cycle and provide a truly circular, sustainable solution for roofing products."
As the leading manufacturer in North America—where GAF covers one out of every four residential roofs—the company is uniquely positioned to extend the impact of this innovation across manufacturing facilities in order to help reduce landfill waste and continue to offer more sustainable roofing options to its customers.