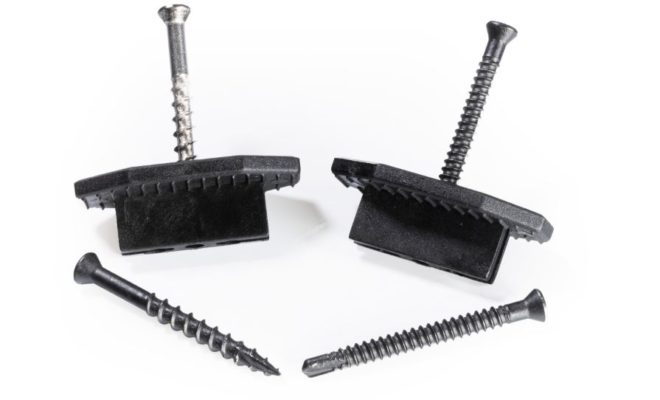 © The MoistureShield Aegis Clip is featured in both stainless and carbon for wood and metal frames.
MoistureShield Introduces New Aegis Clip for Composite Decking
By /
MoistureShield, a division of Oldcastle APG, a CRH Company, introduces the MoistureShield Aegis Clip, which features a 90-degree installation technique for grooved boards and may be used on wood or steel joist systems.
Aegis, made of glass-reinforced polypropylene for long-lasting strength and durability, complements MoistureShield Deck Clips as an option to match today's rising tendency toward metal framing and difficult situations.
Aegis Clips have beveled edges and screws that are pre-installed, as well as teeth that slot into the groove to help control lateral movement.
It is suitable for metal, ACQ, and all other Pressure-Treated joists.
The 90-degree installation technique makes it simple to install and replace deck boards, with a tight fit for improved stability and constant 3/16″ spacing between deck boards.
Aegis has enhanced gripping power and a lifetime warranty against loose deck boards.
"We are continuously looking for solutions that help our MoistureShield deck builders get the most seamless installation possible," said Matthew Bruce, MoistureShield's Vice President of Sales.
"We recognize more pros are using metal deck frames, and Aegis Clips accommodate both wood and metal with strength and stability."
Deck builders can use Aegis to select the sort of screws that function best in different climatic situations, with the option of carbon or stainless steel pre-inserted screws.
The clips are offered in 250-square-foot buckets with 450 fasteners and 50-square-foot buckets with 90 fasteners.
The package markings indicate frame and screw compatibility, and both buckets feature a T15 Star Driver Bit for wood and metal frames.
The Starter Clip Pack and Finisher Clip Pack, both with 25 starter clips and 25 screws, are available separately (estimated for 250 sq. ft deck). Aegis Clips will first be available in the United States.