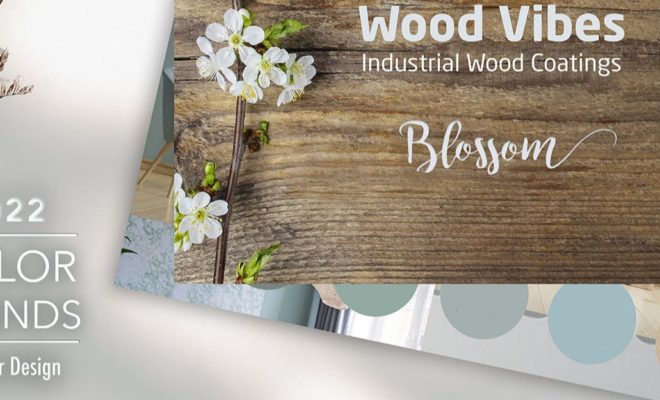 © Wood Vibes: Blossom / Axalta Industrial Wood Color Trends 2022
Axalta Launches Annual Wood Color Collection, Wood Vibes: Blossom
By /
Wood Vibes: Blossom is the 2022 edition of Axalta's Industrial Wood Coatings color trends campaign, which focuses on home interior color trends, including wood finishing trends.
The new collection is inspired by nature, with a focus on soft, neutral, and calming color palettes that will elicit a sense of comfort and well-being as the world continues to traverse unprecedented occurrences and customers seek healing and peace in the world.
The global epidemic has altered people's lives and altered many areas of home design.
The pandemic's impact on emotions and behaviors has created a longing for rebalancing and regeneration.
Wooden Vibes: Blossom is inspired by the therapeutic power of gardening.
As people seek consolation and healing, research has shown that flowers and plants have a good impact on their well-being.
Using specific flower colors encourages pleasant vibes into a space.
The Wood Vibes: Blossom color palette includes:
White Magnolia uses the purest of whites to design a clean and calm space.
The Thistle Beige collection incorporates various neutral hues, inspiring feelings of positivity and balance.
The Heather Brown earthly palette represents earth tones providing a comforting and nurturing ambiance.
A combination of pink and purple make up the Lavender Bush collection, creating a renewed palette of a healing and a soothing environment.
The Blue Hydrangea collection is classic and cozy, forming a relaxing energy in a home. 
The Green Cactus collection evokes a sense of cleanliness with elegant, yet soothing soft green hues.
The Gray Santolina collection is minimalistic and neutral, providing personality and warmth to any place.
Black Rose is dominant and dramatic, providing boldness and elegance to a home.
"Our Wood Vibes collection is an opportunity to share Axalta's color expertise with the wood and building products market that will ultimately provide consumers the latest hues and colors aligned with leading interior design trends," said Axalta Industrial Building Products Vice President and General Manager Wade Arnold.
"Through extensive market research and cutting-edge color development, our experts in advanced color forecasting continue to formulate and deliver on-trend colors to our customers."
Axalta, a global pioneer in color and design for wood products, provides customers with exclusive access to highly qualified, experienced master stylists and artists.
Axalta works closely with customers from the original design phase to market launch to produce distinctive colors and procedures that boost productivity and efficiency.