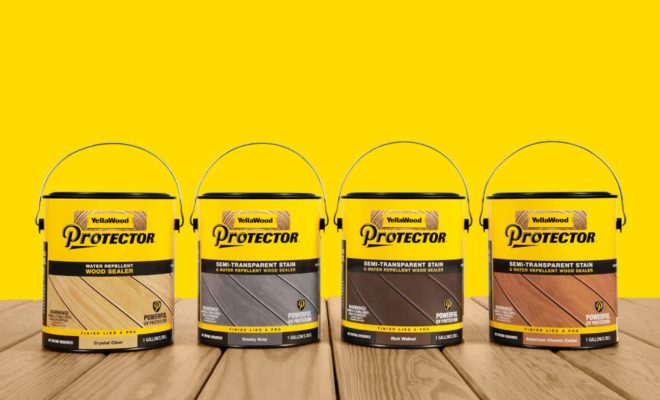 © YellaWood
YellaWood Launches 'Protector' Stains and Sealants
By /
YellaWood, a treated wood provider, is launching its first-ever line of stains and sealants.
YellaWood Protector is available in four different colors in one-gallon cans and five-gallon buckets: Crystal Clear, American Classic Cedar, Rich Walnut, and Smoky Gray.
The premium stain can be used on decks, fences, siding, pergolas, gazebos, and outdoor furniture.
"With YellaWood Protector semi-transparent stains and sealants we are building upon our legacy of pressure-treated lumber," YellaWood's director of branding and marketing operations, Rob Pongonis, stated.
"This line of acrylic-oil hybrid stain includes water repellents, UV inhibitors and leverages our commitment to providing high-quality products to successfully maintain outdoor living spaces."
YellaWood Protector stains and sealants are private label products that comply with the YellaWood brand's high standards, according to the firm.
They are specially developed to deliver a professional-grade, acrylic-oil hybrid that provides outstanding protection.
"We're proud to introduce this product line as an extension of the YellaWood brand," Daryl Evans, Chief Marketing Officer, went on.
"YellaWood Protector stains and sealants are ready for purchase in select markets and will become available more broadly throughout the year. We look forward to hearing customer input as they give YellaWood Protector products a try."
Great Southern Wood Preserving, Incorporated, and its YellaWood brand products, founded in 1970, are headquartered in Abbeville, Alabama.
The company maintains 14 plants in the South, Midwest, and Mid-Atlantic regions, where it manufactures pressure-treated lumber for residential, farm, commercial, and industrial applications.