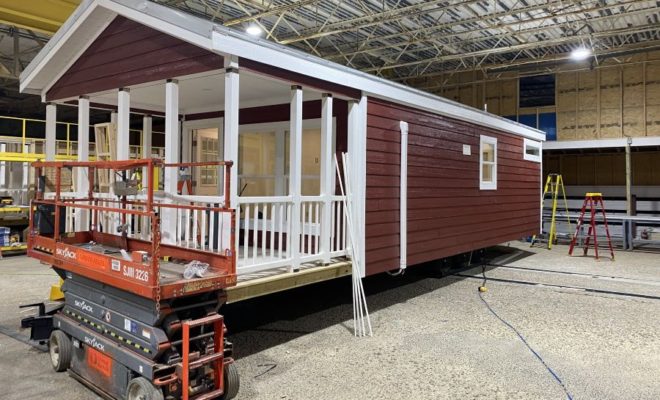 © Great Outdoor Cottages
Blue Water Affiliate Great Outdoor Cottages Proclaims Construction of New Facility
By /
Great Outdoor Cottages, a popular high-quality cabin manufacturer, has begun construction of a state-of-the-art facility in the Georgetown, DE Business Park to meet increased demand.
Great Outdoor Cottages was founded by Ocean City, Maryland-based outdoor hospitality specialist Blue Water, along with Mike Scheid and John Longino, and now has over 60 employees and a management team with over 185 years of combined experience in park model construction.
Great Outdoor Cottages will relocate from its temporary location in Millsboro, DE to the new factory once construction is finished.
While the current facility proved adequate for producing the companies' initial units, sales were forced to be halted at 171 units due to overwhelming demand and production space constraints.
35 of those units have already been completed and delivered, with the first arriving in January 2022 at a third-party campground in North Carolina.
The new manufacturing facility, which will be 50,000 square feet in size, will be built in collaboration with the Sussex County Government.
It will be dedicated to cottage construction and will serve areas east of the Mississippi from Maine to Georgia.
The cottages themselves will be built with top-of-the-line building materials and technology, ensuring that they are excellent investments for the properties that buy them.
This includes industry-exclusive smart foam insulation, smart siding, high-quality metal roofing, and synthetic exterior finishes that give the cottages a coastal and natural feel.
The cottages will sleep six people comfortably and will have plenty of storage, a full kitchen, a walk-in shower, a full bathroom, and a back porch.
"Our motto is to build the nicest and strongest park models in the industry." Todd Burbage, CEO of Blue Water and lead investor in Great Outdoor Cottages, stated: "This means we won't cut corners while using innovative building techniques to create great cottages with cool space-saving amenities and exciting features."
Liberty Cedar

Leading top quality specialty wood products, tropical lumbers & domestic hardwoods, custom milling and flooring, trim packages, timbers and other materials serving Rhode Island, Massachusetts, Connecticut, and Long Island with excellent customer service. Delivery to other areas via common carrier.

Order online at Libertycedar.com