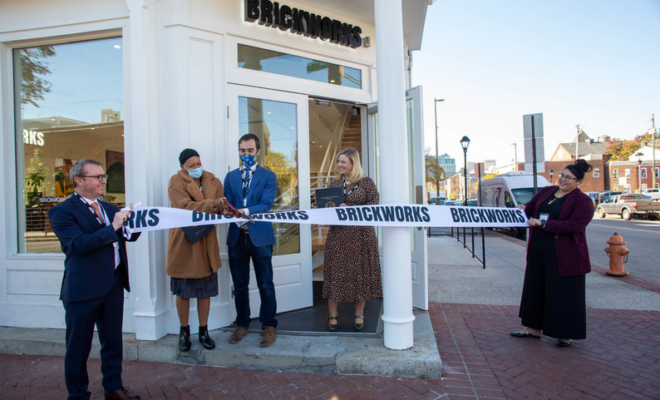 (Left to Right) Mark Ellenor, President of Brickworks North America is joined by Community Liaison for Baltimore City Council President, Shaakira Gill; Baltimore City Councilman, Zeke Cohen; Lara Robertson, VP of Design and Distributor Sales; and Eva Cohen, Design Studio Manager during the official ribbon cutting celebration for the newly opened Brickworks Design Studio in Baltimore.
Brickworks Launch a New Design Studio in Baltimore
By /
Glen-Gery Corporation's parent company, Brickworks North America Corporation, announced the grand opening of its Design Studio in Baltimore.
The Baltimore Design Studio will provide a modern and sophisticated space for architects, designers, trade professionals, and consumers to collaborate on projects, explore premium products in a variety of colors, shapes, and sizes, and attend a variety of thought-provoking and entertaining events.
"With each Brickworks Design Studio, we are growing our global community of dedicated and esteemed design professionals who understand what it takes to stand out and what materials do it best," said Brickworks North America President Mark Ellenor.
"The Baltimore Design Studio is the latest in a series of planned Design Studio openings, created to provide personalized style insights and customized services to architects, designers and their clients. We are excited to further expand our footprint in North America with our global flagship Design Studio in New York City slated for early 2022."
The Baltimore Design Studio, located at 600 South Broadway, is a 3,312-square-foot beautiful space in the historic district of Fells Point. The two-story structure includes:
One-on-one expert consultations – Architects, designers, trade professionals, and consumers all benefit from one-on-one consultations with a product specialist, who can add ease and clarity to the product selection process, assisting in the transformation of the most daring project concepts into transforming realities. Eva Cohen, who has more than 8 years of experience in custom home and building design, will lead the studio's team of highly qualified personnel.
Premium products on display – Visitors to the Baltimore Design Studio can browse, touch, and take samples of the most beautiful and long-lasting building goods. Architects and designers can be inspired by the many creative possibilities that emerge from getting up up and personal with Glen-Gery materials, which range from brightly colored brick to high-end Venetian glass brick.
Premier industry events – The Design Studio's events team will be in charge of bringing Brickworks' renowned events to North America. Industry leaders can convene to explore cutting-edge trends and the creative versatility of brick through networking events, lecture series, and presentations.
The new Design Studio will build on Glen-Gery's long history of servicing the architectural and design community in Baltimore and Washington D.C. through its L&L Supply locations.
These stores have been in business for over 70 years.
The Baltimore Design Studio is Brickworks' second in the United States and its eighth worldwide.
A.W. Graham Lumber LLC

Home of Dirt Cheap Prices! Shop for quality dimensional lumbers, spf framing lumber, stud and precut framing, syp lumber, lumber treated, Osb, advantech, zip and blue plus,, lumber pine and knotty pine, pine patterns, Fencing, fence post, fence boards, cargo containers, steel rebar and shapes, columns post and railing, kitchen cabinets, vinyl sliding, hardwood flooring, & other quality home improvement materials at the lowest price.

Shop online at Grahamlumber.com