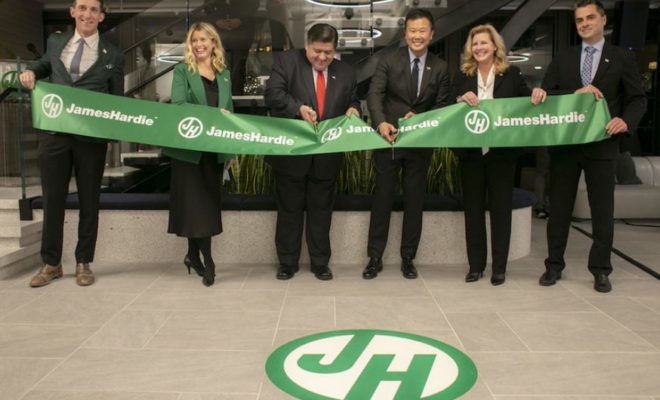 © James Hardie executives are joined by the Governor of Illinois to celebrate the ribbon cutting of James Hardie's new US headquarters in Chicago: Joe Blasko (General Counsel), Amy Lamparske (Chief Digital Officer & VP Marketing), JB Pritzker (Governor of Illinois), Dr. Jack Truong (Chief Executive Officer), Julie Katigan (Chief Human Resources Offer), Jason Miele (Chief Financial Officer).
James Hardie Opens New U.S. Headquarters in Chicago
By /
James Hardie Industries, the world's leading manufacturer and marketer of high-performance fiber cement and fiber gypsum construction solutions, recently celebrated the grand opening of its new state-of-the-art US headquarters in Chicago, Illinois.
The ceremony represented an important milestone in James Hardie's strategic shift to a consumer brand, with statements from James Hardie CEO Dr. Jack Truong and Governor JB Pritzker.
The company's 68,000-square-foot office at 303 East Wacker overlooks Lake Michigan and the Chicago River and supports the brand's focus on consumer and market-led innovation, which is enabled by cooperation and cross-functional teamwork among its more than 5,000 workers worldwide.
"On LaSalle Street, we used to look at buildings, now we have unobstructed views of the river and of downtown Chicago. On a clear day, we can see Lake Michigan for miles, this is very intentional," remarked Dr. Jack Truong during the ribbon cutting ceremony.
"In moving to this location, we were determined to elevate and enlarge our perspective. We wanted to look beyond building exteriors, to the neighborhoods where our customers and employees live and work. We wanted to focus on the needs of the trade, of course, but also to lift our gaze to the homeowner, whose dreams we intend to fulfill."
The state of Illinois will play an important part in James Hardie's transition and future growth.
Aside from the new corporate headquarters in Chicago, where the company's leadership is housed, a James Hardie production factory is located in Peru, Illinois.
Governor JB Pritzker said, "I'm exceptionally proud to join James Hardie in celebrating the official grand opening of their new U.S. headquarters in downtown Chicago. Replanting roots in our great city only reaffirms that Illinois is a best state to build and expand a business. James Hardies' commitment to building more with less is embedded in their approach to sustainable manufacturing. It's this vision that builds on the manufacturing legacy of our state, as we provide impetus for the nation's carbon-free production future. I look forward to many years of collaboration and growth."
James Hardie leadership handed a $100,000 donation to Habitat for Humanity Chicago to commemorate more than fifteen years of engagement. In addition, the company's leadership honored Veterans Day by donating $100,000 to the Wounded Warrior Project.
The James Hardie trademark is now part of the Chicago skyline, with "James Hardie" signs prominently placed atop 303 East Wacker.
The company is now searching for dozens of new positions at its new state-of-the-art headquarters, with openings in a variety of employment sectors such as IT, finance, marketing, communications, supply chain, HR, legal, and others.