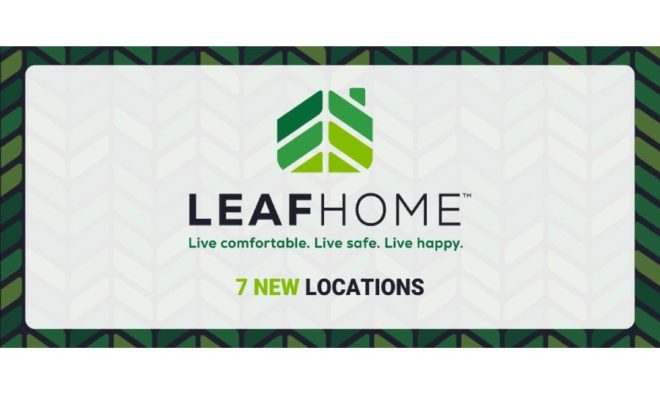 © Leaf Home
Leaf Home Expands into New Markets and States Across the U.S.
By /
Leaf Home, a leading technology-enabled direct-to-consumer provider of home solutions, announced the opening of seven new offices in the United States in May under its gutter protection, safety, and water brands. Leaf Home now serves 47 states, with new locations in Montana, North Dakota, and South Dakota.
Leaf Home, which serves customers in the United States and Canada, provides innovative, high-quality products for those looking to improve their homes both inside and out.
With over 175 locations, the company's experienced local specialists offer end-to-end services directly to consumers through a variety of solutions such as gutter protection, water purification, bathroom safety upgrades, stairlifts, cabinet refacing, and window and door replacement, and more.
"Through these expansions, we're providing convenience, peace of mind, and added value to even more customers and their homes across the country," said Jeff Housenbold, President and CEO of Leaf Home.
"Our continued growth is a testament to our talented team and their hard work and dedication, and I'm looking forward to all we can accomplish together within these new markets and states."
LeafFilter Gutter Protection Expands to Four New Cities and the Three New States
LeafFilter Gutter Protection, the industry's leading provider of gutter protection, expanded its network by four offices last month.
In addition to Manchester, New Hampshire, the company now has offices in Billings, Fargo, Sioux Falls, Montana, North Dakota, and South Dakota. These openings mark Leaf Home's first foray into those states, bringing the total number of LeafFilter offices to 138.
With its award-winning and patented technology that keeps everything out of the gutters except water since 2005, LeafFilter Gutter Protection has enabled homeowners to eliminate gutter cleaning hassle.
Leaf Home Water Solutions Expands into Texas
Leaf Home Water Solutions has added offices in Dallas and Houston to its rapidly expanding list of locations. Texas water can be difficult, especially for private good owners, and the company is excited to provide homeowners with cleaner, safer water that is free of dangerous contaminants.
By testing tap water with free innovative digital water tests, Leaf Home Water Solutions matches homeowners with the best whole-home water filtration system for their needs.
With a team of industry experts and a strong commitment to customer service, the product line addresses the unique demands of city and well water.
Leaf Home Security Services Austin is being added.
Leaf Home Safety Solutions, which enables homeowners to easily and confidently access every room and level of their homes, has opened its 20th office in Austin, Texas.
The location is the third for Leaf Home's safety products in Texas; the company opened its Dallas and Houston locations earlier this year.
Life-improving products from Leaf Home Safety Solutions are intended to improve life quality without the need for a stressful, full-scale renovation.
Custom installations and packages enable representatives to work within the confines of each customer's existing space, allowing projects to be completed in days rather than weeks or months.
Contractors Depot

Leading residential construction supply, & industrial building materials supplier, retail & distributor in Georgia, South Carolina and the surrounding Southeastern US. A family business specializing in architecturally specified construction materials, jobsite service & product knowledge.

Order online at Contractorsdepotinc.com