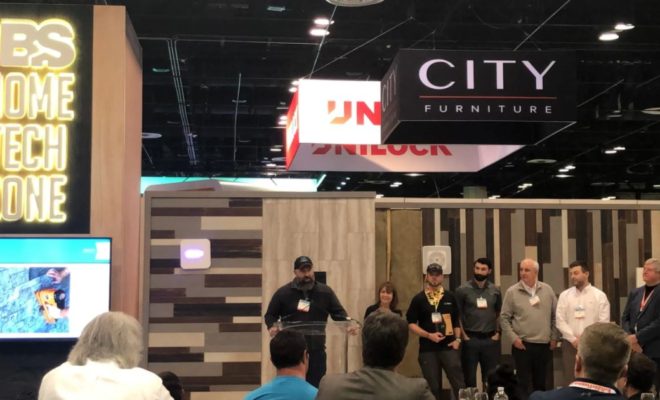 © Best of IBS winners Evolve Stone accepting the Best in Show award / nahbnow.com
NAHB: The Best of IBS Product Winners at 2022 International Builders' Show
By /
At the recent NAHB International Builders' Show (IBS) in Orlando, the National Association of Home Builders (NAHB) announced the winners of its ninth annual Best of IBS Awards.
The awards were given out during a ceremony on the show's last day.
More than 200 entries were received for this year's Best of IBS Awards.
The awards were given out in eight categories, with the Best in Show winner chosen by a team of 24 impartial judges consisting of attending reporters and building professionals.
Exhibitors with the finest combination of design, utility, and innovation, as well as their value to consumers and/or home builders, received awards.
The winners are as follows:
Best in Show: Evolve Stone
Best Energy Efficient Product: SPAN Gen2 Smart Panel
Best Home Technology Product: SPAN Gen2 Smart Panel
Best Indoor Product: Murphy Door Flush Mount Pantry Door
Best Kitchen & Bath Product: Swidget 20/40/60 Control Switch
Best Outdoor Product: Barrette Outdoor Screen Panels
Best Window and Door Product: Endura Panolock Multi-Point Lock
Most Innovative Building Material: Evolve Stone
Most Innovative Construction Tool: GAF Energy Timberline Solar Energy Shingles
"The innovation and sustainability of the entries were much more evident in all aspects of products and services, but the biggest take away I saw from a judging standpoint was the efforts to create products that were easy to install for contractors and the ease of use for the end user," Pat Coveny, president and owner of Arch Construction Management Inc. and Best of IBS Awards judge stated.
"This year's winners represented innovative and aesthetically-pleasing designs and functions," Best of IBS Awards judge and associate and senior designer at Danielian Associates, Tom Wong added.
"These products enhanced construction procedures and solved solutions in all aspects of residential construction."
Liberty Cedar

Leading top quality specialty wood products, tropical lumbers & domestic hardwoods, custom milling and flooring, trim packages, timbers and other materials serving Rhode Island, Massachusetts, Connecticut, and Long Island with excellent customer service. Delivery to other areas via common carrier.

Order online at Libertycedar.com