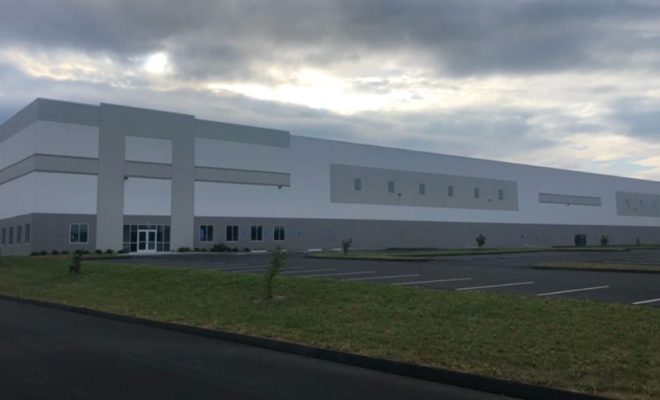 © Parksite's new location in East Windsor.
Parksite Adds New 150,000-sq-ft Connecticut Distribution Center
By /
Parksite, a building supplies provider, has inaugurated its newest distribution center in East Windsor, Connecticut.
Parksite now has two sites in the South Windsor region that house LBM goods, the company's surfaces family of products, and hardwood plywood and panel products offered through its Atlantic Plywood subsidiary.
"This new third Parksite location offers 150,000-square-feet of interior warehouse space and significant outside storage space, both expandable," Parkiste's supply chain director, Jim Coulter said in a press release.
"We've outgrown our current South Windsor facilities and this new space will allow us to improve warehouse efficiencies which will ultimately result in a higher level of service for our customers".
"It's all about improving the overall customer experience," said Parksite's director of sales, Rob Brannock.
"Our customers and our manufacturing partners will be assured our products are stored, handled, and delivered utilizing the latest technologies available. The increased space and improved warehouse efficiencies will result in our customers receiving a better product and a higher level of service they can pass along to their builders, contractors, and fabricators."
Parksite, which has 23 locations and over 750 employee-owners, thinks its competitive advantage is solely related to its employees.
"Every one of our associates is dedicated to contributing to the success of both our customers and our suppliers. Owners produce the best results with integrity and honesty, and by doing that Parksite is successful as well. The dedication and excitement that is generated when everyone is an owner is extraordinary." CEO, Ron Heitzman added.
Parksite maintains a sales office and distribution center at 455 Sullivan Ave. in South Windsor, and Atlantic Plywood Corp., Parksite's wholly owned hardwood plywood and panel products subsidiary, is located nearby at 1590 John Fitch Boulevard.
A.W. Graham Lumber LLC

Home of Dirt Cheap Prices! Shop for quality dimensional lumbers, spf framing lumber, stud and precut framing, syp lumber, lumber treated, Osb, advantech, zip and blue plus,, lumber pine and knotty pine, pine patterns, Fencing, fence post, fence boards, cargo containers, steel rebar and shapes, columns post and railing, kitchen cabinets, vinyl sliding, hardwood flooring, & other quality home improvement materials at the lowest price.

Shop online at Grahamlumber.com