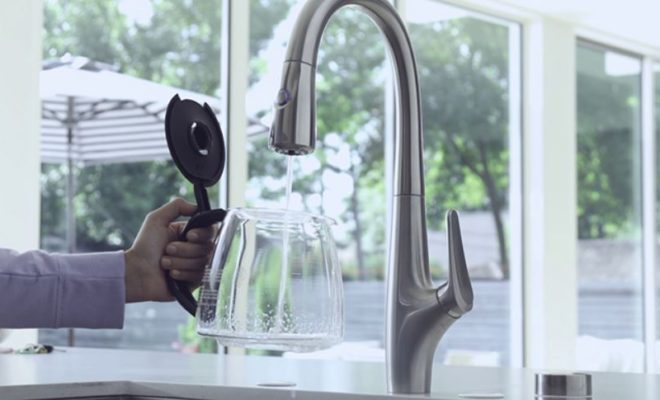 © Photo by American Standard / americanstandard.com
Introducing the New Filtered Kitchen Faucet and Hand Shower from American Standard
By /
American Standard launches two new home water fixtures that include built-in filtration systems: these two are the Filtered Kitchen Faucet and Filtered 4-Spray Hand Shower Rail System.
The Filtered Kitchen Faucet releases filtered water for drinking or cooking whenever users push a button on the pull-down spray head.
The system has two distinct water channels, one for unfiltered water and another for filtered tap water to make sure the two do not mix.
The product also comes with the following:
A toggle between stream and spray operation
A magnetic docking system
A ceramic disc valve to prevent dripping
The filter system underwent rigorous testing to meet NSF / ANSI 42 & 53 standards at 6.5pH.
It also has certification to reduce 99.7% of lead, 96.9% of chlorine and 92.6% of class I particulates in tap water.
Users can install it above-deck in the countertop or inside the cabinet wall.
This provides more storage room under the sink.
Each filter can provide approximately 300 gallons of fresh drinking water which lasts three to six months on average.
The installation types make the carbon filter for replacement easily accessible.
The Filtered 4-Spray Hand Shower Rail System has certification for NSF 177 standards that lead to reduced water-borne chlorine levels by at approximately 50%.
It also provides around 5,000 gallons of filtered water per filter that covers around four months.
The hand shower is easy to install with a user's current plumbing system.
The integration of the filter into the rail simplifies the replacement process.
The showerhead has four spray options which are Drench, Massage, PowerWash, and Sensitive.
These are easily interchangeable using the toggle switch.
Product pricing is as follows:
The Filtered Kitchen Faucet has a retail price of $279.99, and comes in either a polished chrome or stainless steel finish. Customers can purchase replacement filters for $45.
The hand shower rail system has a retail price of $179.99, and comes in either a polished chrome or brushed nickel finish. Replacement filters retails for $35.