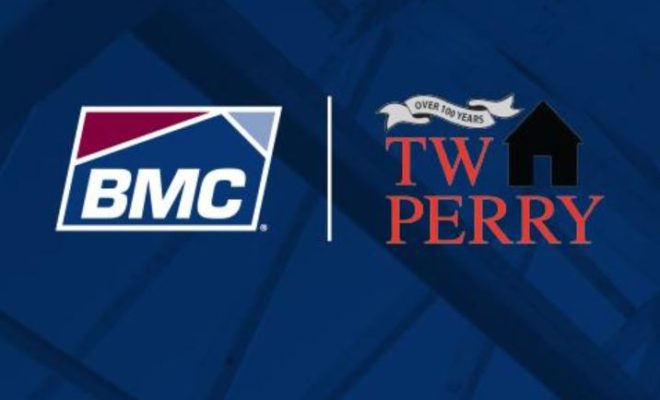 © Photo from BMC Stock Holdings, Inc. (Left) and TW Perry (Right) / Company Logo
BMC Agrees to Purchase TW Perry, a First-Rate Independent Building Materials Distributor
By /
BMC Stock Holdings, Inc. is a leader in diversified building materials and also a leader in providing solutions to professional remodelers and new construction builders in the U.S., recently announced that they agreed to purchase TW Perry.
The latter is a premier value-added building materials supplier that caters to Northern Virginia, Maryland, and D.C. customers.
"We look forward to welcoming the associates of TW Perry to the BMC team. We are impressed with their pro remodel business, highly diverse customer base and value-added product mix, which is aligned with BMC's core strategy. This addition will expand our portfolio in the growing Northern Virginia, Maryland and D.C. markets," said Dave Flitman, President and CEO of BMC.
TW Perry dates back to 1911 and distributes building materials independently.
They serve Northern Virginia, Maryland, D.C. and surrounding neighborhoods.
The company have six lumber yards, a truss manufacturing center, retail stores, a custom millwork operation and a design studio.
TW Perry supply professional remodelers and custom builders with lumber, doors and windows, decking and railing products, building materials, paint, hardware and power tools.
They provide a wide variety of millwork products, which include over 250 in-stock moulding profiles.
They also offer special order products.
TW Perry made approximately $200 million in total net sales for the twelve months ended September 30, 2020.
The agreement is subject to certain closing conditions.
The transaction is expected to conclude in December 2020.
A.W. Graham Lumber LLC

Home of Dirt Cheap Prices! Shop for quality dimensional lumbers, spf framing lumber, stud and precut framing, syp lumber, lumber treated, Osb, advantech, zip and blue plus,, lumber pine and knotty pine, pine patterns, Fencing, fence post, fence boards, cargo containers, steel rebar and shapes, columns post and railing, kitchen cabinets, vinyl sliding, hardwood flooring, & other quality home improvement materials at the lowest price.

Shop online at Grahamlumber.com