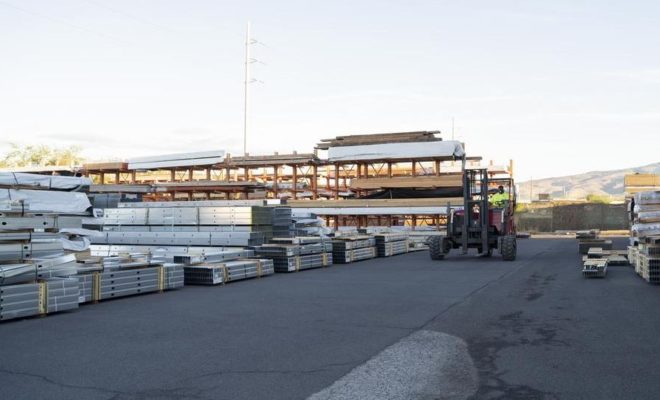 © Photo from HPM Building Supply / hpmhawaii.com
HPM Building Supply Pushes Big Expansion Plans
By /
HPM Building Supply is advancing one of the biggest expansions in its almost one century history.
This endeavor will include doubling its Oahu presence. Doing so will make the company Hawaii's exclusive distributor for SCAFCO steel framing.
They will also expand their product selection to include CertainTeed acoustical ceiling panels and other commercial interior materials.
The Oahu expansion comes within a month after HPM merged with Miyake Concrete Accessories, Inc.
This move added HPM's eight existing locations across Hawaii Island, Oahu and Kauai and four building supply stores, and one truss manufacturing plant on Maui.
"By adding steel and commercial interior products to our extensive lineup of lumber, paint, roofing and hardware, we're able to offer even more for our customers and truly be a one-stop shop for projects of all types and sizes," said Jason Fujimoto, HPM president and CEO.
With the latest development plan, the company's Kapolei location added six employees and the facility now covers six acres, with 50,000 sq. ft. of covered warehouse space, steel yard, custom metal roofing manufacturing, and lumberyard.
"HPM is well-known for our lumber selection, and our specialization in lumber stretches back 99 years. Now, we can also supply large commercial and residential projects where steel is required or preferred," said Jason Fujimoto.
HPM is SCAFCO's exclusive distributor in Hawaii and they carry all SCAFCO products at wholesale prices.
The company is also a SCAFCO engineering experts' partner on custom orders.
They entered the commercial interiors market by adding CertainTeed acoustical ceiling panels.
These are available in fissured, textured or smooth options with a variety of acoustic performance, pricing and visuals.
The company plans to continue the expansion of its commercial interior materials.
The Oahu location will soon have regular stocks of windows, drywall, moulding, and insulation products.
They also offer customers wood wall panels and trusses manufactured locally.
They ship these from its Keaau manufacturing center on Hawaii Island to sites located on various islands.
HPM's expansion on several fronts with the addition and development of sites and increasing product selection has created momentum for the company as they head towards their 100th anniversary in 2021.
Liberty Cedar

Leading top quality specialty wood products, tropical lumbers & domestic hardwoods, custom milling and flooring, trim packages, timbers and other materials serving Rhode Island, Massachusetts, Connecticut, and Long Island with excellent customer service. Delivery to other areas via common carrier.

Order online at Libertycedar.com