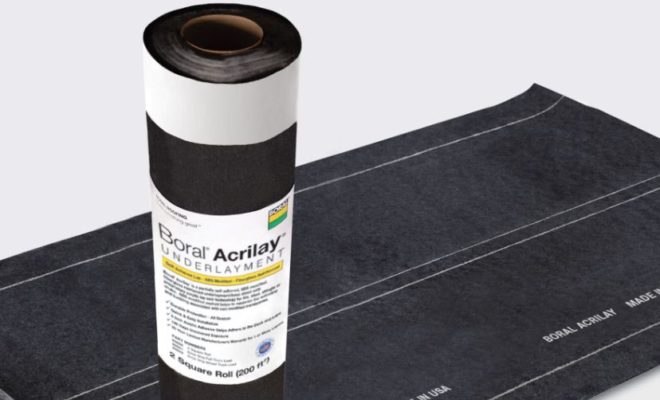 © Boral Acrilay Roofing Underlayment / Boralroof.com
Boral Roofing Introduces Acrilay Underlayment
By /
Boral Roofing LLC, introduced Boral Acrilay roofing underlayment, an evolutionary underlayment product combining SBS modified asphalt with a proprietary acrylic adhesive.
The new underlayment, which is a single-layer system, outperforms asphalt-based adhesives in terms of adhesion performance.
Boral Acrilay roofing underlayment protects against weather stressors like wind and rain. Furthermore, the easily applied underlayment reduces installation time resulting in lower labor costs.
"The innovation and benefits of the Boral Acrilay roofing underlayment are notable," says Douglas Thagard, business development manager for Boral Roofing. "Fast and easy installation, incredible adhesion, and resiliency against wind-driven rain are all key selling points. Besides, the Boral Acrilay underlayment has a unique smelted slag mineral surface allowing for better, and more secure walkability when compared to standard sand surfaces."
Boral Acrilay roofing underlayment is suitable for use with all Boral Roofing clay, concrete, stone-coated steel, and composite roofing solutions, as well as under shingles and most steep slope roofing materials.
The underlayment is available in Texas, as well as the rest of the western United States.
One of the most significant advantages of the acrylic adhesive used in the Boral Acrilay roofing underlayment is that it will not degrade or crack over time, as is common with other adhesives used in the industry, such as asphalt, silicone, and butyl-based options.
The single-layer underlayment can be installed quickly and easily without the use of fasteners, air compressors, or other roof-damaging equipment. Back nailing is always recommended for roof slopes greater than 8:12. The underlayment can be used in a variety of temperatures ranging from 40°F to 240°F.
Because the acrylic adhesive is solid, there is no need to heat it when applying it in cold environments, and it will not become viscous or sloppy in hot environments. The product is also simple to adjust during use.
The underlayment adheres directly to the deck or itself with six-inch adhesive strips and releases liners to protect the adhesive at the toe and head laps, allowing for over 27" of non-adhered underlayment between the adhesive strips.
The bottom lap of a single-layered application will have two inches of adhesive applied to the deck and four inches applied to the previous underlayment course.
The double-layered installation will adhere to the underlayment surface and lap completely over the previous underlayment course.
"This is one of the most versatile and resilient underlayments for use under all types of steep slope roof systems," adds Thagard. "The Boral Acrilay roofing underlayment can withstand harsh climate conditions whether hot, cold, humid, wet, or dry."
Boral Acrilay roofing underlayment is also backed by a transferable and non-prorated 20-year Limited Warranty for single and double-layer applications.
Boral Acrilay roofing underlayment comes in 39 and 3/8″ wide by 61′ long rolls, with a total production area of 200 square feet.
A.W. Graham Lumber LLC

Home of Dirt Cheap Prices! Shop for quality dimensional lumbers, spf framing lumber, stud and precut framing, syp lumber, lumber treated, Osb, advantech, zip and blue plus,, lumber pine and knotty pine, pine patterns, Fencing, fence post, fence boards, cargo containers, steel rebar and shapes, columns post and railing, kitchen cabinets, vinyl sliding, hardwood flooring, & other quality home improvement materials at the lowest price.

Shop online at Grahamlumber.com