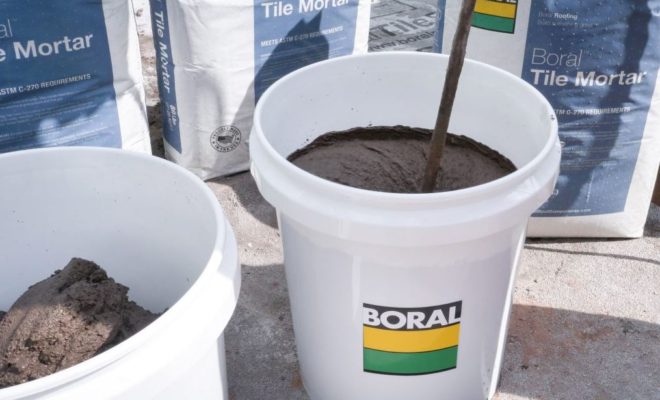 © Photo by Boral Roofing / boralroofing.com
Boral Roofing Now has Improved Tile Mortar in Florida, East Coast Markets
By /
Boral Roofing launched a re-formulated version of the Boral Tile Mortar for tile-roof weather blocking projects in the Florida and East Coast markets.
The improved product installs in one easy and quick step after mixing it with water.
It also comes in component colors pre-mixed into the mortar.
"Boral™ Tile Mortar rounds out our suite of roof component offerings with a durable roof-tile weather-blocking solution providing essential water-repelling abilities," says Brian Sweet, components product manager for Boral Roofing.
The product now comes with an Integrated Water Repellent additive.
Its design prevents efflorescence and meets ASTM C-270 requirements.
It is also engineered for cracking and shrinking resistance.
"This all-season mortar is designed specifically to address common climate concerns in Florida and Texas. The mortar is offered in numerous colors to seamlessly match almost any roof tile," Sweet says.
"It is uniformly blended to ensure consistency of color at all hips, ridges, gables, and valleys, enhancing the aesthetics of any tile roof."
The Boral Tile Mortar comes in 80-pound (36.3-kilogram) bags.
These are between 10-30 linear feet of coverage, which depends on the tile profile and installation type.
Customers can purchase it by the bag, pallet (42 bags) or 14-pallet mixed truck load.
"We provide Component Color Match Guides to assist our customers in finding the best color choices of mortar and other components for their project," Sweet continues.
Contractors Depot

Leading residential construction supply, & industrial building materials supplier, retail & distributor in Georgia, South Carolina and the surrounding Southeastern US. A family business specializing in architecturally specified construction materials, jobsite service & product knowledge.

Order online at Contractorsdepotinc.com