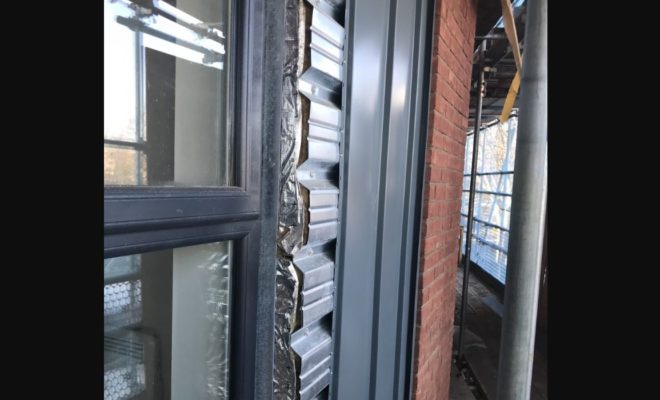 © Photo by Tata Steel Europe / tatasteelconstruction.com
Tata Steel Releases Latest A1 Fire Rated Facade System
By /
Tata Steel released Urban Seam® Façade, their latest A1 fire rated steel standing seam cladding system. This product provides a modern look and exceeds fire safety standards.
It was developed from the Colorcoat Urban® range of products.
Its façade system was customized with the needs of residential developers and contractors in mind.
Urban Seam® Façade is sufficient for buildings higher than 18m.
It is also suitable for residential purposes where all external cladding elements.
However, this must have a reaction to fire rating of A2 or better to meet Building Regulations.
The system has a high-quality standing seam mounted on a profiled steel deck.
This is attached to the building with a helping-hand rail and bracket mechanism fixed to a standard steel frame system.
The profiled steel deck takes the place of the continuous plywood or OSB backing board used in fully supported standing seam cladding systems.
The latest product improves on the fire rating of A1.
It also offers an ideal solution for use on residential apartment blocks, for retrofit and new build projects.
The Urban Seam® Façade is designed from high-quality Colorcoat Prisma® pre-finished steel and has a Galvalloy® metallic coating for first-rate cut edge protection and corrosion resistance.
It comes in 29 varied colour choices.
This meets the design requirements of residential development and offers a real alternative to aluminium composite material (ACM) cladding.
It is lighter and easier to install compared to brick slip façade systems.
The complete Urban Seam® Façade system has been independently tested to meet the Centre for Window & Cladding Technology (CWCT) standards.
The large-scale test reviewed the system's performance in wind and impact resistance, and water tightness.
It also underwent dynamic pressure tests. Tata Steel has partners among the leading contractors around the country.
Urban Seam® Façade is already used for various projects throughout the UK.
Gordon Crichton, at Tata Steel, mentioned the following at the launch of Urban Seam® Façade: "For many years there has been a growing demand for cladding systems with improved fire performance. This has only intensified in recent years with increased scrutiny on façade specifications, especially from the insurance industry."
"Our Urban Seam® Façade system provides a safe, durable and easy to install alternative to both ACM cladding and brick-slip façades alongside the excellent design flexibility offered by the extensive colour palette."
Liberty Cedar

Leading top quality specialty wood products, tropical lumbers & domestic hardwoods, custom milling and flooring, trim packages, timbers and other materials serving Rhode Island, Massachusetts, Connecticut, and Long Island with excellent customer service. Delivery to other areas via common carrier.

Order online at Libertycedar.com