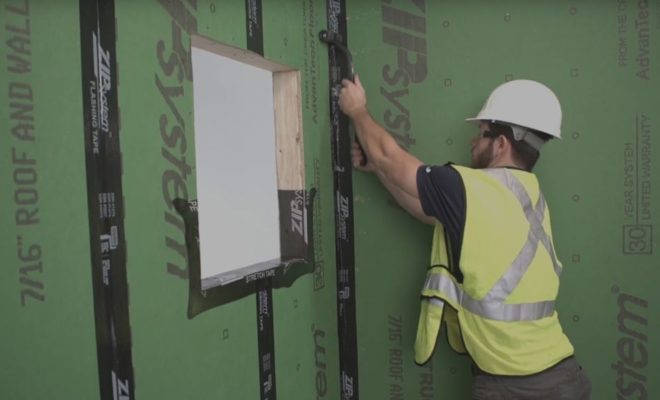 © ZIP System Flashing Tape ZIP System flashing tapes / huberwood.com
Vapor Permeable Tape to Zip System Now Available with Huber Engineered Woods
By /
Huber Engineered Woods introduced a new addition to the ZIP System line the ZIP System Vapor Permeable Tape.
This was made for panel seam sealing and flashing on a ZIP System wall panel assembly. It was announced at the 2021 International Builders' Show.
The tape features:
A high-powered acrylic adhesive system
High permeance to fit the requirements of particular environments.
The standards of the latest addition fit extreme climates and high-performance assemblies such as passive house or net zero.
Taken together, the ZIP System panels sealed with VP tape result in a weather-resistive barrier and rigorous air barrier.
According to the company it also features a higher tape perm rating than standard ZIP System flashing tape.
The ZIP System VP Tape comes in 90-inch by 3.75-inch rolls.
It is one of 15 different straight and "stretch" tapes available for ZIP System sealings and fluid-applied flashing products.
Users can apply it from 0 to 120 degrees Fahrenheit.
Kelly's House & Home

Shop online with Kelly's! Bahamas' largest department store with 16 departments ranging from fine china to hardware, water tanks to bath towels. Whether you're getting married, expecting a baby, painting your house or planting a garden, Kelly's has all you need. And don't forget the toys; we have the best selection in Nassau.

Shop online at Kellysbahamas.com