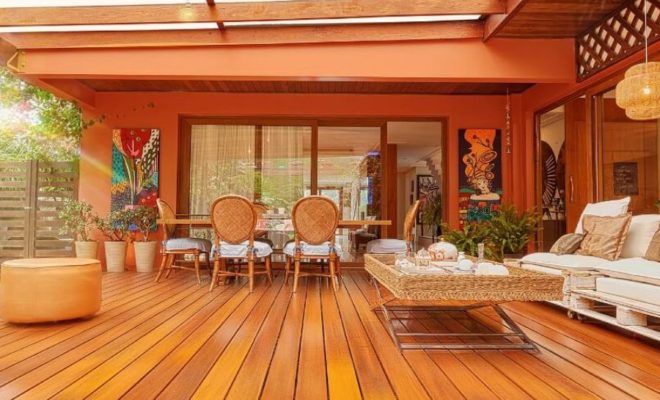 © Black Label
The Black Label of Tropical Forest Products Joins Forces with Ganahl Lumber for California Distribution
By /
Tropical Forest Products announced today that its Black Label premium brand of Ipe and other tropical hardwoods will be distributed throughout California through a distribution partnership with Ganahl Lumber.
Ganahl, based in Anaheim, will distribute the entire Black Label product line through its ten California branch locations.
Black Label is sourced legally and sustainably from South America.
The trees used to make Black Label products are carefully chosen, taking into account the forest's age, size, and productive well-being.
Ipe, Cumaru, Jatoba, Garapa, Angelim, and Tigerwood comprise the brands' lumber portfolio, with applications ranging from decking, cladding, and ceilings to timber sizes and architectural millwork.
"Black Label truly represents the pinnacle of sustainable hardwood," said Brian Lotz, Tropical Forest Products' Technical Director. "Partnering with brand-focused dealers like Ganahl has been the key to our success."
"The level of support we have received for the Black Label brand rates as some of the best in the industry, in my experience." said Deonn DeFord, Product Manager at Ganahl Lumber.
He went on to say that there is much to admire about a brand of this magnitude and the companies that support it, from the incredible level of technical support to the breadth of products.
Ganahl Lumber now has Black Label lumber products in stock. Other items, such as branded fasteners, will be available in the coming months.
Thanks to Black Label's kiln drying process, the brand achieves a new level of quality with impeccable strength and impressive performance in every product.
Every board and hardware accessory that bears the Black Label label must be Premium Architectural Grade or higher.
Black Label dealers can expect eye-catching displays, jacketed samples, and product literature, as well as a strong online presence from the brand and Capital.
Contractors Depot

Leading residential construction supply, & industrial building materials supplier, retail & distributor in Georgia, South Carolina and the surrounding Southeastern US. A family business specializing in architecturally specified construction materials, jobsite service & product knowledge.

Order online at Contractorsdepotinc.com