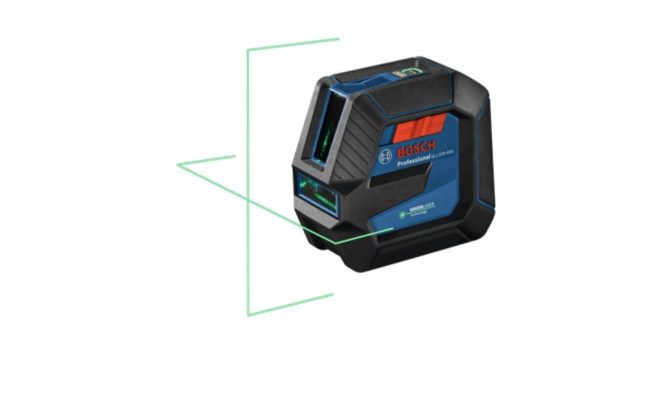 © Photo provided by Bosch Power Tools / bosch.us
Two New Self Leveling Lasers Now Available from Bosch Power Tools
By /
Bosch Power Tools released their two latest self-leveling lasers to its product lineup.
Bosch Power Tools' new self-leveling lasers:
Bosch GLL100-40G Green Beam Self-Leveling Cross-Line Laser
Bosch GCL100-40G Green Beam Self-Leveling Combination Laser with Plumb Points
The company states that these two latest tools use a green beam laser which emit lines and points 4x brighter and more visible to the human eye compared to the standard red laser.
It is also more visible and brighter in direct sunlight.
The tool has features that monitor its own temperature and power consumption during operation.
This allows it to deliver optimal line visibility and brightness. It also maximizes battery life and prevents overheating.
"After months of market research and hands-on input from trade professionals, the new Bosch cross-line lasers are brighter, smarter, and tougher than leading competitors," says Brandon Eble, group product manager at Robert Bosch Tool Corp.
Both products are IP64 rated for rain and dust penetration prevention.
It comes with a full overmold rubber housing that protects it from impact points.
"Next-level durability and green-line visibility coupled with technology that gives several more hours of on-the-job battery life make these lasers a must-have tool for any worksite," continues Brandon Eble.
The products can project horizontally, in a cross-line mode, or vertically for accurate results.
The GLL100-40G comes with a rugged mounting bracket and extra strong magnets for quick setup.
The GCL100-40G has upward and downward plumb points and a rotating mount for adjustments.
Customers can buy the lasers at the Home Depot and other Bosch industrial channels.