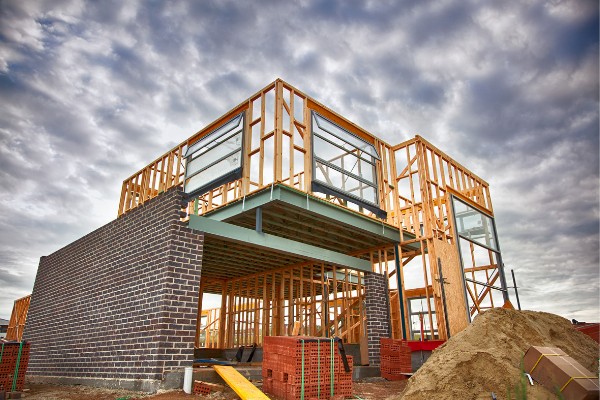 Builders' Confidence is Eroded by Rising Costs and Supply Constraints
By /
Even though buyer demand remains relatively strong, ongoing lumber and building material supply-side constraints, rising construction costs, and expectations of higher interest rates continue to have a negative impact on builder sentiment.
According to the National Association of Home Builders (NAHB)/Wells Fargo Housing Market Index, builder confidence in the market for newly-built single-family homes fell two points in March to 79 from a downwardly revised reading in February (HMI).
This is the fourth consecutive month that builder sentiment has declined, and the HMI has fallen below the 80-point mark for the first time since September of last year.
"While builders continue to report solid buyer traffic numbers, aided by historically low existing home inventory and a persistent housing deficit," said NAHB Chairman Jerry Konter, a builder and developer from Savannah, Ga.
"Increasing development and construction costs have taken a toll on builder confidence."
"We urge policymakers to take immediate action to alleviate supply-chain woes."
"Improving access to lumber, OSB, and other materials will assist builders in increasing the supply of desperately needed housing while combating inflation."
According to NAHB Chief Economist Robert Dietz, the March HMI recorded the lowest future sales expectations in the survey since June 2020.
"Builders are reporting growing concerns that rising construction costs (up 20% in the last year) and higher interest rates associated with tightening monetary policy will price prospective home buyers out of the market."
"While low existing inventory and favorable demographics support demand, the impact of high inflation and expected higher interest rates suggests caution for the second half of 2022."
The NAHB/Wells Fargo HMI is based on a monthly survey that NAHB has been conducting for more than 35 years and assesses builder perceptions of current single-family home sales and sales expectations for the next six months as "good," "fair," or "poor."
Builders are also asked to rate prospective buyer traffic as "high to very high," "average," or "low to very low" in the survey. The scores for each component are then used to calculate a seasonally adjusted index, with any number greater than 50 indicating that more builders consider conditions to be good rather than poor.
The HMI index measuring current sales conditions fell three points to 86, while the index measuring sales expectations over the next six months fell a whopping ten points to 70. The component tracking traffic from prospective buyers increased by two points to 67.
When the three-month moving averages for regional HMI scores were examined, the Northeast fell seven points to 69, the Midwest one point to 72, and the South three points to 83. The West gained one point to 90.
HMI tables are available at nahb.org/hmi. Housing Economics PLUS also has more information on housing statistics (formerly housingeconomics.com).
Contractors Depot

Leading residential construction supply, & industrial building materials supplier, retail & distributor in Georgia, South Carolina and the surrounding Southeastern US. A family business specializing in architecturally specified construction materials, jobsite service & product knowledge.

Order online at Contractorsdepotinc.com