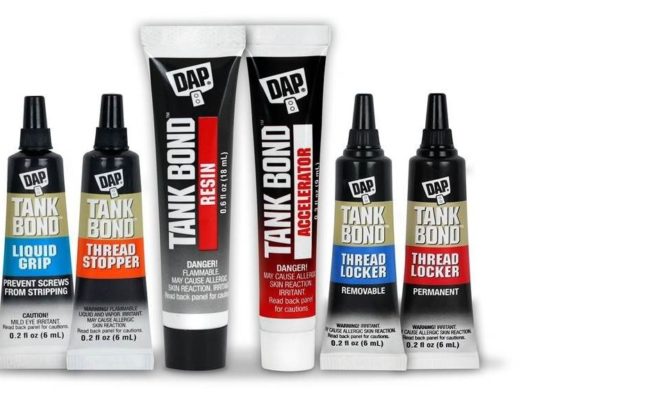 © Photo by DAP / dap.com
DAP Launches Four New Heavy-Duty Adhesives
By /
DAP's Tank Bond now has four new heavy-duty adhesives which are Tank Bond Heavy Duty Advanced Epoxy, Tank Bond Liquid Grip, Tank Bond Gel Threadlockers and Tank Bond Thread Stopper.
hese are specialized for repairing tools, fastening screws and holds, and outdoor maintenance.
The Tank Bond Thread Stopper produces a gel-like coating that absorbs vibrations and shocks, and keeps the fastener in place whenever a user applies it on any type or size screw or bolt. Its formula allows users to remove and replace the fastener up to five times using manual tools.
They can use it on plastic, metal, or wood without damaging or cracking these materials.
The Tank Bond Liquid Grip has up to seven times more grip whenever users use it for installing or removing screw heads when they apply it on them.
This reduces the risk of wear on drill bits, screws and tools.
Its formula can work on various sizes and types of fasteners. Users can easily remove it using a paper towel after completing a job.
According to the manufacturer, the Tank Bond Heavy Duty Advanced Epoxy has features that give it impact resistance, keep hold regardless of force or vibrations on it, and superior bond strength.
Users can apply it on different surfaces such as stone, woods, glass, metal, tile, plastic and ceramic.
It also cures in half an hour on many substrates without surface preparation.
"Our heavy-duty line of Tank Bond adhesives are designed to make durable and reliable repairs on all types of equipment big or small," says Kate Piche, product director at DAP.
Gel Threadlockers comes in Removable or Permanent formulations.
It is designed to keep screws in place despite vibrations or frequent usage. The formula does not run or drip in vertical applications.
It can fix within 10 minutes, and cures completely within 24 hours.
"Whether it's preventing stripped screws and bonding fasteners to holding screws and bolts in place and bonding metal, this 'tough-as-a-tank' military-grade adhesive technology provides tactical solutions for even the most demanding jobs," continues Kate Piche.