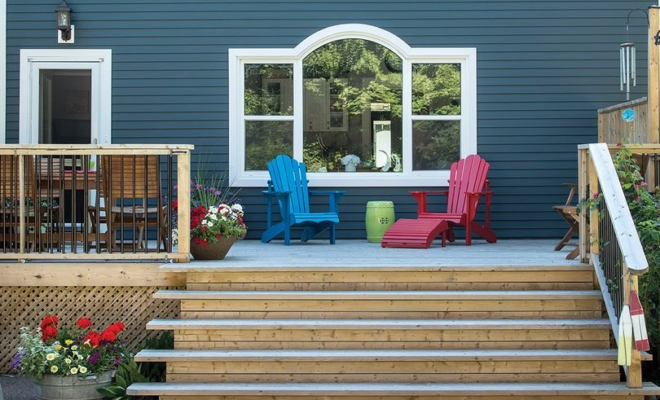 A picture of Royal Building Products 5" Smooth Clapboard siding. © Photo by Business Wire
Royal Building Products offers a new 5-inches Smooth Clapboard Profile in their Celect Siding Product Line
By /
The Westlake company unveils a new 5-inches Smooth Clapboard Profile in Celect Canvas Unpainted Siding and Cellular Composite Siding
Royal Building Products, a Westlake company and leading manufacturer of exterior building products, presents an addition of 5-inches Smooth Clapboard in the Celect Cellular Composite Siding and Celect Canvas Unpainted Siding product lines.
The newly announced siding products offer a smooth brushed finish and the same low-maintenance performance as traditional Celect products.
The newly announced Celect 5-inches Smooth Siding is available in 15 fade-resistant colors and features a proprietary interlocking seam design, which keeps moisture out and just about entirely get rid of seams.
The new Celect Canvas 5" Smooth Clapboard profile is an unpainted version of Royal's industry-leading cellular composite siding.
"We are thrilled to be expanding our Celect Smooth offerings this year, with this new 5" profile in both pre-finished and unpainted versions," said Steve Booz, vice president, marketing, Royal Building Products.
"This has been a highly-anticipated addition to our portfolio of innovative exterior products and we are expecting a great response from architects, builders and remodelers."
Celect Canvas features the same brushstroke finish, woodgrain aesthetics and low-maintenance benefits as traditional Celect products, with the ability to customize the siding colour using thousands of exterior vinyl-safe paint shades that fall within the recommended light reflectance value (LRV) rating of 50 and above.
In addition with the sought-after smooth exterior aesthetic with its distinct shadow lines, all the Celect Smooth products offers a great protection and insulation of homes from the elements and reduced maintenance needs for homeowners.
The Celect Canvas Unpainted Siding and Celect Cellular Composite Siding are both backed by an industry-leading limited lifetime warranty.
For more info, visit RoyalBuildingProducts.com.
Liberty Cedar

Leading top quality specialty wood products, tropical lumbers & domestic hardwoods, custom milling and flooring, trim packages, timbers and other materials serving Rhode Island, Massachusetts, Connecticut, and Long Island with excellent customer service. Delivery to other areas via common carrier.

Order online at Libertycedar.com