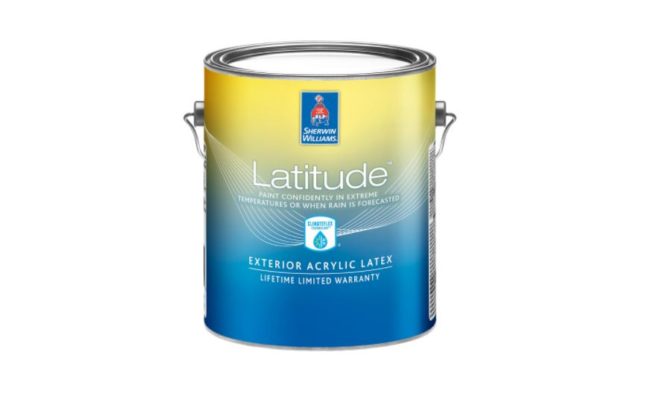 © Sherwin-williams.com
Sherwin-Williams Launches Weather-Adaptive Exterior Acrylic Latex Coating
By /
The newest exterior coating from Sherwin-Williams, Latitude Exterior Acrylic Latex, also includes ClimateFlex technology, which extends the temperature range in which the coating can be used.
"There are many factors to take into consideration to keep exterior painting projects on schedule—but weather doesn't have to be one of them," Rick Watson, Sherwin-Williams' director of product information and technical services, stated.
"The technology in Latitude gives professionals and homeowners more flexibility to keep outdoor projects on track while still delivering long-lasting results and optimal application."
The coating can be applied at temperatures ranging from 35 to 120 degrees Fahrenheit for the air, surface, and material.
It provides moisture resistance within 30 minutes of application, even at temperatures as low as 35 degrees Fahrenheit.
According to the manufacturer, the resulting durable finish protects against peeling, cracking, and dirt pickup while also providing hide, coverage, and block resistance.
The flat, satin, and gloss sheens of the Latitude Exterior Acrylic Latex coating are available.
Sherwin-Williams VinylSafe paint colors, a limited selection of darker colors designed to resist warping or buckling when applied to a vinyl substrate, are among the tints available.