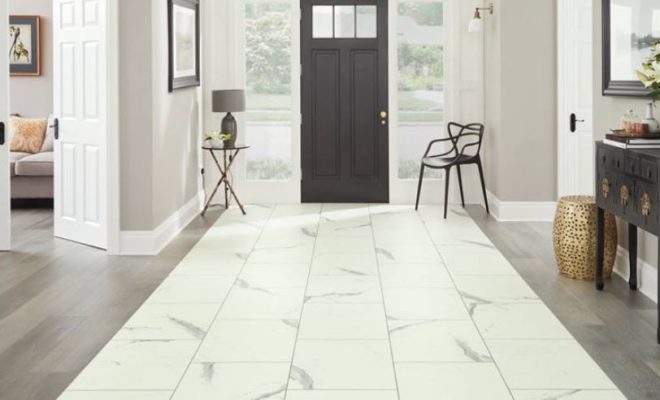 © Photo from Karndean Designflooring / karndean.com
New Korlok Select Stone Styles Launched by Karndean Designflooring
By /
Karndean Designflooring launched 17 new stone designs to its Korlok Select line.
This was developed as an option to porcelain tile. It is an interlocking rigid core flooring system.
The latest designs drew inspiration from natural stone forms, which include:
Calacatta marble, slate, and limestone
Moorish stenciled tiles
Each new alternative features the company's color-coordinated InteGrout except for the two stenciled designs.
The InteGout is a smooth, nonporous grout attachment that removes grout application during installation.
According to the company this contributes approximately 50% in upfront cost savings.
The InteGrout attachment's formulation reduces cracking or harboring dirt or bacteria.
Users can clean it using a pH neutral cleaner.
Each stone links together with the company's proprietary fold-down locking mechanism.
A whole floor system installs easily over many current wood floors on the market.
"Every aspect of Korlok Select with InteGrout contributes to a faster installation and significant cost savings when compared with porcelain tile, including the 5G fold-down locking mechanism, waterproof K-Core and pre-attached acoustic backing," says Karndean Designflooring director of marketing Jenne Ross.
All Karndean floors come with the company's K-Guard+ surface protection.
Customers can buy the Calacatta marble stone in two options: 6-by-24-inch herringbone and 18-by-24-inch tiles arrangement. karndean.com
Liberty Cedar

Leading top quality specialty wood products, tropical lumbers & domestic hardwoods, custom milling and flooring, trim packages, timbers and other materials serving Rhode Island, Massachusetts, Connecticut, and Long Island with excellent customer service. Delivery to other areas via common carrier.

Order online at Libertycedar.com