© Photo by Samsung / samsung.com
Samsung Reveals Latest Smart Products at KBIS 2020
By /
Samsung added to its portfolio of diverse appliances with new product releases at the 2020 Kitchen and Bath Industry Show.
This includes new premium slide-in ranges, a side-by-side Family Hub refrigerator configuration, and the AirDresser clothing care module.
The slide-in range products has the appearance of a built-in appliance that is easier to install. Customers can choose among gas, electric, induction, or dual fuel configurations. It also comes in classic, black, or new Tuscan stainless steel finishes.
All models have "intelligent controls", this system will learn a user's cooking preferences and behavior, and suggest commonly-used configurations when they use the appliance.
Monitoring and controlling the range is possible using the SmartThings smart app.
Users can also send cooking modes for certain recipes directly to the appliance.
"Technology and innovation are in our DNA at Samsung. We listen carefully to the things that consumers tell us they want for their modern, connected homes," says John Herrington, Senior Vice President, General Manager of Home Appliances, Samsung Electronics America.
Customers can buy the Family Hub side-by-side refrigerator in a stainless or black stainless finish, with a fingerprint-resistant coating.
This also features recessed handles, flat doors, and a minimal dispenser.
The interiors new look features vents throughout to cool contents evenly and it has a bigger capacity to store more items.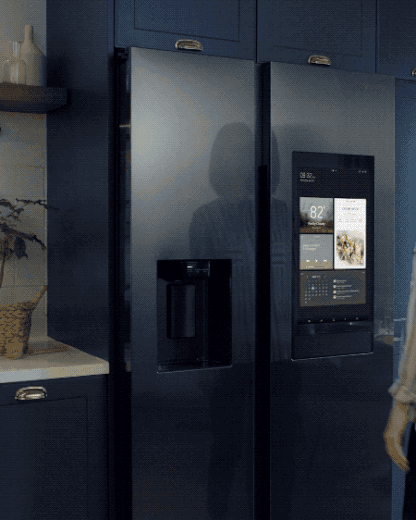 The Family Hub interface allows the Family Board, a digital bulletin board, View Inside, which lets users look inside their refrigerator using a separate smart device, and Smart View, a seamless mirroring tool for a phone or TV.
The AirDresser uses a steam cycle to remove odor, clean clothes and smooth wrinkles in less than 48 minutes.
Store the AirDresser anywhere because it does not need a water line.
The SmartThings app allows users to monitor, control, and receive alerts.
"As we designed these new products, we considered every single detail—from color to user experience—in order to ensure we're offering families innovations that make their daily lives more convenient, more efficient, and more meaningful," says John Herrington.