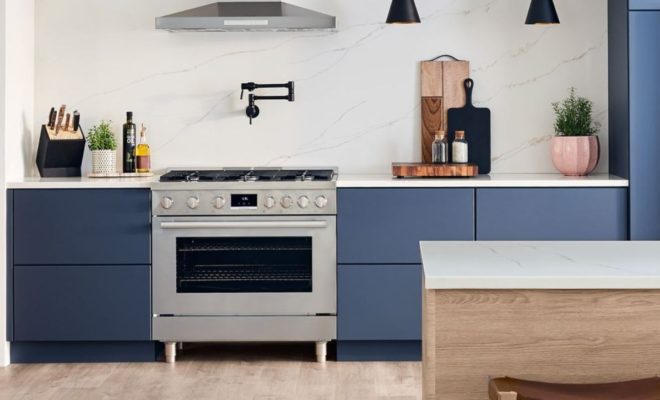 © Photo by Bosch / bosch-home.com
Bosch includes industrial-style ranges and rangetops to product line
By /
Bosch launched a series of "industrial-style" rangetops and ranges for its 800 Series product line.
The company created it to meet the rising consumer demand for professional-level appliances.
The ranges and rangetops come in 30 and 36-inch sizes, and a black stainless steel option for ranges or stainless steel finish.
Both have "industrial" looks which include pedestal feet, continuous cast iron grates, die-cast metal, and front-control knobs.
"When creating the new line, our goal was to marry the bold, prominent look of professional-style appliances with the modern, sleek Bosch design philosophy," says Anja Prescher, director of brand marketing at Bosch home appliances.
The ranges and rangetops' products have the Bosch Dual-Flame ring burner.
This feature uses two flame rings to allow users to have more control over the temperature.
Depending on the size and model of the product, the cooktops range has four to six burners. These have two dual-flame burners on the 36-inch rangetop.
"The all-new Bosch industrial approach was born, offering a versatile product that fits perfectly into the Bosch family of appliances, while also offering a never-before-seen design option for our consumer," continues Anja Prescher.
The rangetops come with Bosch's OptiSim Burner Cap.
This provides users with better control at low temperatures whenever they use it for melting and simmering.
Users can wash all the cooking grates using a dishwasher. The black enamel surface resists stains and is easy to clean.
Customers can get the ranges in all-gas or dual-fuel configurations and includes an electric oven.
The range ovens have an integrated meat probe and layered racks.
It has a cleaning coating in the oven cavity that allows it to burn off surfaces that have accumulated dirt or others while in use.
The new products will launch sometime mid-year 2020.
Contractors Depot

Leading residential construction supply, & industrial building materials supplier, retail & distributor in Georgia, South Carolina and the surrounding Southeastern US. A family business specializing in architecturally specified construction materials, jobsite service & product knowledge.

Order online at Contractorsdepotinc.com