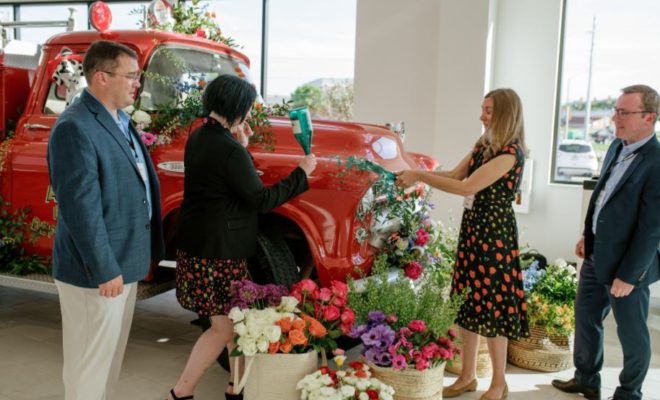 (Left to Right) Nick Busch, District Manager, Supply Center; Staci Bennett, Executive Director, Des Moines Chamber of Commerce; Sarah Trone Garriott, Senator, Polk County and Mark Ellenor, President, Brickworks North America participate in a champagne smash as part of the grand opening celebration event for the new masonry supply center in the greater Des Moines metropolitan area.
Brickworks Opens New Masonry Supply Center in North America
By /
Glen-Gery's, Brickworks North America, has announced the grand opening of a new masonry supply center in the greater Des Moines metropolitan area.
Des Moines has a new 25,000-square-foot masonry supply center designed to meet all of the project needs of architects, trade professionals, and homeowners under one roof.
The new supply center is a modern space that has been thoughtfully designed to promote creativity, maximize project efficiency, and educate trade professionals and homeowners.
"Glen-Gery has always been committed to providing customized, end-to-end solutions to meet every customer's unique needs," Mark Ellenor, president of Brickworks North America, stated.
"Whether you're an experienced builder, architect or a homeowner, the new supply center in Des Moines is a premium one-stop-shop where customers can not only collaborate and leverage our expertise, but also compare, select, and purchase everything they need for their projects."
The 25,000-square-foot supply center, located at 4601 NW Urbandale Drive, includes the following amenities:
A consultation area where a team of experienced staff will offer expert advice, review plans, and guide customers through the product selection process for projects of any size
A trade area where builders, contractors, and homeowners can purchase necessary tools and supplies
A fully-equipped training and education center for trade professionals to expand their knowledge and technical skills through a forthcoming series of seminars, classes, and trainings
A stunning 7,000-square-foot showroom displaying an impressive portfolio of products, including brick, stone, and pavers
An 18,000-square-foot warehouse hosting a large selection of masonry products and supplies
A high-end event space for industry events hosted by Glen-Gery
Glen-Gery operates ten masonry supply centers in the United States and has a long history of manufacturing and distributing brick products in Iowa.
Contractors Depot

Leading residential construction supply, & industrial building materials supplier, retail & distributor in Georgia, South Carolina and the surrounding Southeastern US. A family business specializing in architecturally specified construction materials, jobsite service & product knowledge.

Order online at Contractorsdepotinc.com