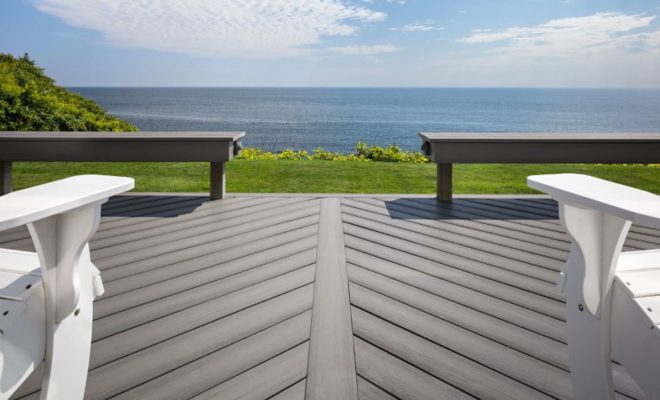 © MoistureShield
MoistureShield Expands in Northeast U.S. with 7 New BlueLinx Branches
By /
MoistureShield, a division of CRH Company Oldcastle APG, has extended distribution with BlueLinx branch locations in Charlotte and Raleigh, NC, Denville, NJ, Yaphank, NY, Burlington, VT, Bellingham, MA, and Portland, ME.
The full array of MoistureShield composite decking materials will be available to dealers at each BlueLinx facility.
"We are excited to continue to grow our national footprint with BlueLinx with this significant expansion from North Carolina to the Northeast," MoistureShield's VP of Sales, Matthew Bruce said.
"As our portfolio and brand awareness continue to increase, we believe that the partnership with BlueLinx provides an amazing platform to support growth and share gain in the composite decking category."
"Following a challenging year for the building industry, demand for decking remains strong and we are excited to continue our expansion and investment in Outdoor Living," Mike Wilson, SVP at BlueLinx added.
"MoistureShield has several unique solutions that are perfectly suited to the Northeast climate, including harsh coastal weather which gives us the best opportunity to execute on our growth strategy for the category."
MoistureShield's Vision boasts the industry's toughest cap, repelling stains, scratches, and impact damage, thanks to proprietary DiamondDefense Coating.
Meridian capped wood-plastic composite decking (available in the Northeast beginning this summer) has the TruTexture Surface in three premium hues that imitate the realistic look and feel of real wood while requiring no maintenance.
Vision and Meridian both provide a variety of colors as well as the option of patented CoolDeck Technology.
When compared to regular capped composite decking in similar colors, CoolDeck helps minimize heat absorption by up to 35%. Furthermore, MoistureShield's entry-level Elevate capped composite decking comes in four hues, including elegant tropical hardwood appearances.
To withstand moisture damage, all MoistureShield products use the Solid Core manufacturing process, making them suitable for installation in the ground, on the ground, or even underwater.
MoistureShield comes with a 50-year transferable structural warranty to give you peace of mind.
It has been field-tested for over 30 years with no structural problems.