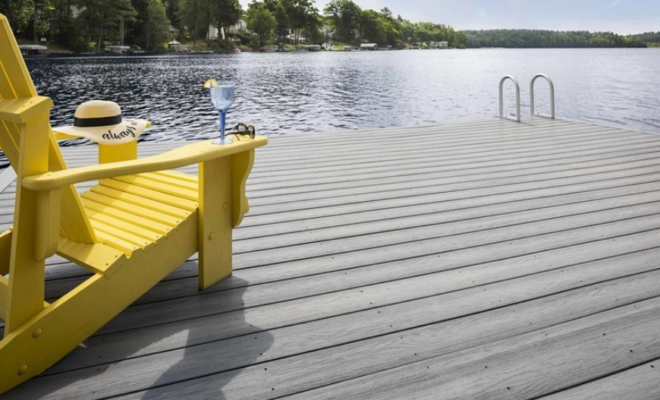 © MoistureShield
MoistureShield Expands Pacific Northwest-Alaska-Hawaii Distribution with Specialty Forest Products
By /
MoistureShield, a division of Oldcastle APG, a CRH Company, is growing distribution in the Pacific Northwest, Alaska, and Hawaii through Specialty Forest Products' branch facilities in Spokane and Tacoma, Washington, and Bozeman, Montana.
MoistureShield Vision, Elevate, and Vantage composite decking product lines will be available at all Specialty Forest Products branch locations.
"We're excited to partner with Specialty Forest Products in the Pacific Northwest, Alaska and Hawaii as we continue to expand our distribution footprint across North America," said MoistureShield Vice President of Sales Matthew Bruce.
"Specialty Forest Products has a significant presence in some of the most extreme weather regions in the country. We both feel MoistureShield will add tremendous value with its unique technology and performance attributes."
"MoistureShield will help us meet unprecedented demand for high-performance building products in our region," stated Mike Stump, Specialty Forest Products President.
"Our new partnership will provide our customers with a capped wood composite decking solution that performs in a wide range of terrains and unique climates."
As a distributor committed to sustainability, Stump is impressed by MoistureShield's ecologically friendly manufacturing practices and 95 percent recycled content.
All MoistureShield products use the Solid Core manufacturing technique, which makes them moisture resistant and suitable for installation in the ground, on the ground, or even underwater.
The Vision series of capped composite decking contains MoistureShield's unique DiamondDefense Coating, the industry's toughest cap designed to resist stains, scratches, and impact damage.
Select Vision colors also provide the unique option of proprietary CoolDeck Technology, which reduces heat absorption by up to 35% when compared to typical capped composite decking in similar colors.
Furthermore, MoistureShield's entry-level Elevate capped composite decking is available in four hues, including beautiful tropical hardwood appearances, and Vantage uncapped composite decking has proven workability beyond wood, with composite performance.
MoistureShield comes with a 50-year transferable structural warranty to give you peace of mind. It has been field-tested for over 30 years with no structural problems.