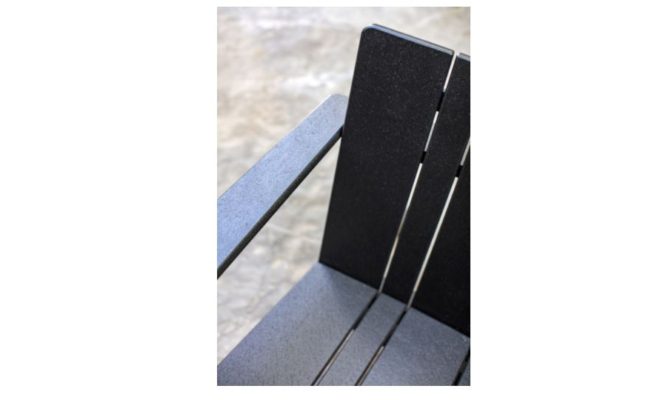 © New Neighbor by Polywood Low Chair
POLYWOOD and Neighbor Collaboration Launch Sustainable Product Line
By /
Neighbor, a Phoenix-based outdoor furniture manufacturer, has announced the debut of a new product line in conjunction with POLYWOOD, the leading brand of sustainable outdoor furniture.
Neighbor's new "Low Chair" and matching ottoman are now available for purchase at hineighbor.com.
"We are excited about the introduction of the Low Chair and what it means to our constant efforts towards creating long-lasting sustainable products," says Chris Lee, a co-founder of Neighbor.
"POLYWOOD's commitment to quality and long-standing heritage in the outdoor industry made the decision a no-brainer when this partnership opportunity presented itself."
The new Low Chair is a low-waste, low-maintenance variation on a traditional Adirondack-style outdoor chair and ottoman.
This chair and ottoman combination were built to endure a lifetime outside without splintering, breaking, chipping, or peeling since they were designed to withstand the environment and were made from 100 percent recycled ocean and landfill-bound plastic.
This cooperation aims to develop adaptable and comfy furniture pieces that will last generations while complementing any outdoor setting.
"We are excited to partner with Neighbor on this exclusive collection of outdoor furniture made by POLYWOOD," says Doug Rassi, CEO of POLYWOOD.
"Both our brands have a mission to help people create beautiful outdoor spaces where they can make lasting memories. Working with Neighbor's design team to bring their vision of these products to life, paired with our experience in engineering genuine POLYWOOD lumber, has been nothing but delightful."
Additional details of the Neighbor x POLYWOOD collection include:
POLYWOOD products are made in the USA with genuine POLYWOOD lumber
POLYWOOD lumber is backed by a 20-year warranty
Good for all-weather and protected from UV damage
Contractors Depot

Leading residential construction supply, & industrial building materials supplier, retail & distributor in Georgia, South Carolina and the surrounding Southeastern US. A family business specializing in architecturally specified construction materials, jobsite service & product knowledge.

Order online at Contractorsdepotinc.com