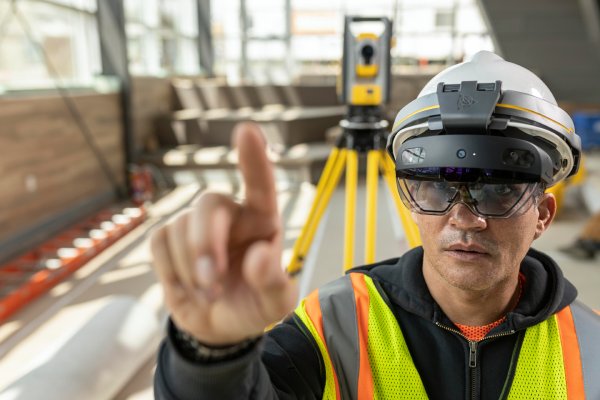 © Trimble
Trimble Inaugurate Mixed Reality for Construction Layout with FieldLink MR
By /
Trimble FieldLink MR accelerates layout by combining the visual context of a fully immersive 3D model with the precision of Trimble's layout tools.
Trimble introduced the FieldLink MR app today, an innovative mixed-reality solution for construction layout.
Trimble FieldLink MR, built on the powerful Trimble Connect collaboration platform, provides an entirely new method to do construction layout, allowing professionals to swiftly navigate to activities on the job site—getting more done in less time.
The app is designed to work with the Trimble XR10 and the HoloLens 2, a hardhat-integrated mixed-reality device.
Trimble will showcase this innovative innovation at this week's International Air-Conditioning, Heating, and Refrigeration (AHR) Expo 2022 in Las Vegas, exhibit number N9922.
Field crews may readily visualize construction data using Trimble FieldLink MR instead of depending on a handheld controller for step-by-step navigation to locate each point.
Visual signals provided by the mixed-reality hardhat naturally direct employees to each spot where they can physically set out relevant information on the construction site.
Attracting and retaining competent personnel continues to be a major difficulty for many contractors; therefore, decreasing the complexity of the layout in the field will be critical to enabling less experienced staff to deliver quality work the first time.
"Trimble's FieldLink solution enables users to precisely position digital construction information in the physical world."
"FieldLink MR is an extension of this application, which seamlessly integrates cutting edge mixed-reality technology to help construction professionals be more effective on-site."
"This integration offers more efficient and intuitive workflows by making the layout process more natural and contextual," Martin Holmgren, general manager for Trimble's Building Construction Field Solutions Division said.
Trimble's layout and mixed-reality solutions are a part of the Trimble Connected Construction ecosystem, which is powered by the Trimble Connect collaboration platform.
Contractors from various trades and at different stages of the construction lifecycle can collaborate to enable more automated layout and manufacturing.
Field productivity solutions are directly driven by constructible data, avoiding the requirement for data conversions and the possibility of inaccuracy.
Project stakeholders can collaborate smoothly using constructible data and real-time collaboration, streamlining the design, build, and operate lifecycle.
Availability
Trimble FieldLink MR will be available from Trimble and BuildingPointTM distribution partners in the first half of 2022, and will be downloadable from the Microsoft Store.
Trimble and BuildingPoint distribution partners sell the Trimble XR10 with HoloLens 2.