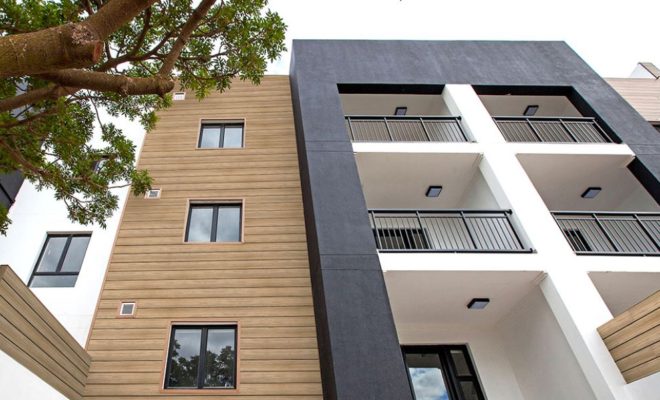 © Photo by Fortress Building Products / fortressbp.com
Wood-Look Cladding for Facades and Rainscreens Now Available from Fortress
By /
Fortress Building Products expands its product line with the new Fortress cladding.
This is a composite and PVC product made as a wood-look option for rainscreen assemblies and building façades.
The Fortress cladding's performance features are patterned after the company's current Infinity and Apex decking products.
Customers have the option to choose between capped bamboo-plastic PVC Apex cladding boards or co-extruded bamboo-plastic composite Infinity boards.
Both have improved wood grain textures and non-repeating grain patterns.
The products have features that protect them from UV, fade, and moisture damage.
They also don't require resealing or staining throughout their useful life.
"There's no denying that wood offers a sought-after aesthetic for façades and rainscreen assemblies, however, the sun and rain's weathering effects are relentless and progressive," said Bill Ross, director, composite category, for Fortress Building Products.
The products' bamboo fiber and recycled plastics are Forest Stewardship Council certified. They are easy to install without using special methods or equipment.
The company mentioned that the lower cost for installers is attributed to the:
Sustainable materials
Short lead times
Inexpensive installation process
"Since Fortress cladding can endure even the harshest of elements, building designers can have confidence that the finished product will look as beautiful as it does on day one for years to come," said Bill Ross.
Fortress Infinity comes in four in-stock and nine special order colors that drew inspiration from tropical hardwoods.
The Fortress Apex comes in four in-stock and seven special order colors that drew inspiration from exotic hardwoods.