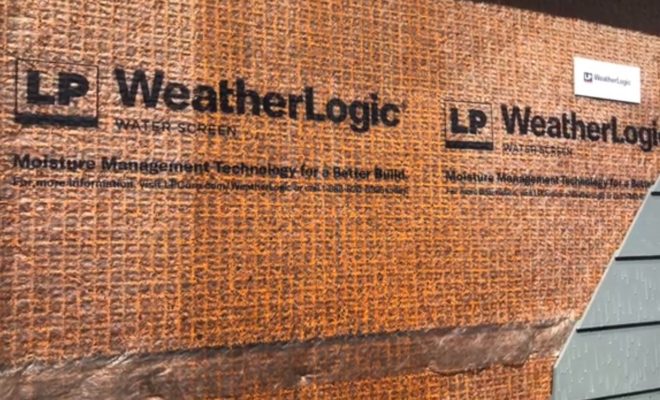 © Photo by LP Building Solutions / lpcorp.com
LP Building Solutions Adds New Water Screen in its Weatherlogic Platform
By /
LP Building Solution has released its latest portfolio of framing and sheathing products, which is the LP Structural Solutions.
The LP WeatherLogic Water Screen is the newest addition to the WeatherLogic home envelope platform.
"The LP Structural Solutions portfolio is charting a new path for how we focus, how we innovate and how we go to market, which allows for speed of innovation," says Craig Miles, LP's business marketing manager for OSB and EWP.
The water screen uses synthetic, polymer-based materials made to enable envelope assemblies meet the requirements of various markets and home durability.
The manufacturer designed it for use with the LP WeatherLogic Air & Water Barrier, integrated panels or as a combination with a WRB house wrap and an OSB.
"Within the LP Structural Solutions portfolio, we are designing new products and positioning existing products with a singular goal in mind: Help the industry work toward better, more resilient homes to help stand up to whatever nature can throw at it. One example is moisture, which is a challenge both on the jobsite and ongoing post-completion," continues Craig Miles.
"As an industry we know that moisture management is a challenge, and we will continue to engineer technological solutions to help address it," says Casey Smyth, LP's marketing product manager.
The company cites that the WeatherLogic Water Screen offers first-rate moisture protection.
It also extends the useful life of a home's exterior by improving drainage and ventilation. The product is easy to install and is mold-resistant.
"LP WeatherLogic Water Screen is an example of how we are looking at resiliency challenges through an integrated suite of offerings that work holistically through our LP Structural Solutions portfolio of engineered products designed to meet specific, regionally based resiliency needs," adds Casey Smyth.
Kelly's House & Home

Shop online with Kelly's! Bahamas' largest department store with 16 departments ranging from fine china to hardware, water tanks to bath towels. Whether you're getting married, expecting a baby, painting your house or planting a garden, Kelly's has all you need. And don't forget the toys; we have the best selection in Nassau.

Shop online at Kellysbahamas.com