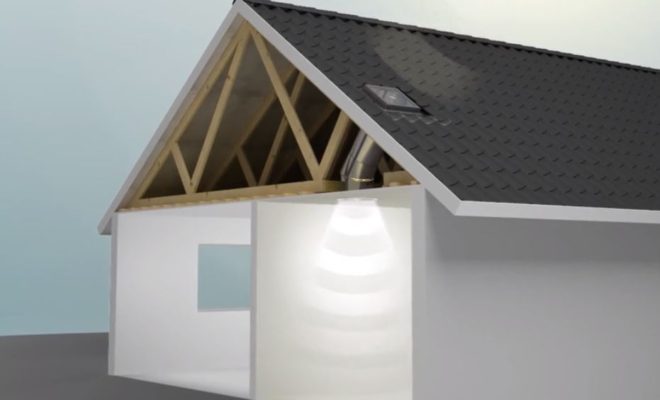 © Photo from VELUX / veluxusa.com
Flame-Resistant Skylight Introduced by VELUX
By /
VELUX introduced their latest Sun Tunnel skylight series to meet the changes in the wildland-urban interface (WUI) zone and Class A burning brand code standards.
The TZR and TZRL Wildfire Glass Curb-Mount Sun Tunnel Skylights reach high-level fire resistance because of its features such as:
Flame-resistant construction
Ignition-resistant tempered diamond wire glass in the standard panel
VELUX mentioned that approximately 44 million homes, or one-third of all homes in the country, are within WUI zones.
This is where residential development are near undeveloped wild lands prone to fires.
The latest Sun Tunnels integrate a 14-inch fixed curb-mounted skylight and an adapter for a standard 14-inch reflective aluminum tunnel.
The TZR 014 model is made for tile roofs but doesn't come with a flashing kit.
Customers can buy an ECW high-profile tile flashing kit separately.
The TZRL 014 is designed for shingle roofs and comes with an adhesive underlayment and shingle roof flashing kit.
"The ignition-resistant wire glass on the new Sun Tunnel is designed to prevent the glass from dropping to the floor and igniting a fire inside the home," says Ross Vandermark, director of national product management for VELUX North America.
"It is a prime option for homes in WUI zones as flame-resistant construction can help preserve property."
Both products come with:
64 inches of tunnel material
Two 12-inch
45-degree elbows
16-inch top collar
A.W. Graham Lumber LLC

Home of Dirt Cheap Prices! Shop for quality dimensional lumbers, spf framing lumber, stud and precut framing, syp lumber, lumber treated, Osb, advantech, zip and blue plus,, lumber pine and knotty pine, pine patterns, Fencing, fence post, fence boards, cargo containers, steel rebar and shapes, columns post and railing, kitchen cabinets, vinyl sliding, hardwood flooring, & other quality home improvement materials at the lowest price.

Shop online at Grahamlumber.com