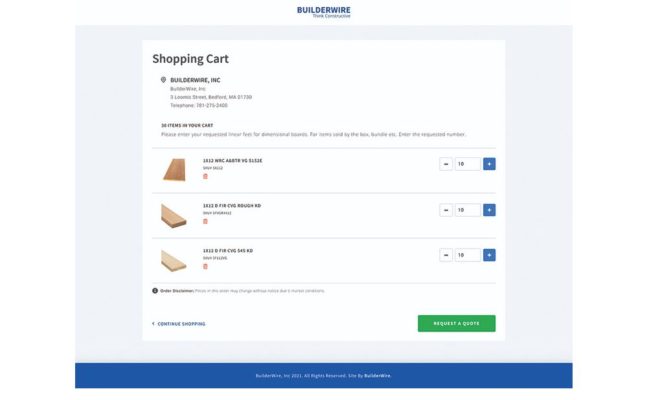 © Builderwire, Inc. / Builderwire.com
LBM Dealers Make Rapid E-Commerce Transition
By /
This is an Op-Ed piece / Bedford, Massachusetts –
Prior to the pandemic, there were only a few LBM companies with e-commerce sites, as most believed that a basic web presence was sufficient.
The pandemic has dramatically shifted the LBM industry's focus over the last 15 months to seek out technology solutions in order to provide online access to both their account holding customers (B2B) and a true e-commerce experience for local consumers (B2C) looking to purchase materials online and schedule a delivery.
There are numerous examples of e-commerce growth in the LBM industry, but none more so than the sheer volume of inquiries BuilderWire has recently received.
We signed nearly 30 new LBM clients in the first quarter of 2021. The businesses range from large multi-location distribution firms to small one-location lumberyards or hardware stores.
The desire to provide customers with secure online access to view AR balances, make online payments, check inventory via an e-catalog, and even place an order for customer pickup or delivery has never been stronger.
Dealers are also looking to add credit card payment options in order to attract new local businesses through delivery.
When the pandemic struck, dealers were caught off guard. Consumers demanded online ordering, so dealers quickly shifted their focus to finding ways to make online e-commerce work for their business and this new demand.
2000-2010
BuilderWire began in the early 2000s. At the time, our industry was extremely resistant to technological change, particularly the development of a web presence that displayed pricing online.
Early on, one of the most significant challenges for LBM dealers attempting to implement e-commerce was the lack of access to data contained in the dealer's ERP software. Most major ERP companies had not considered providing external access to data via web services or APIs.
Once we had reliable data access, the few LBM companies that began using e-commerce imposed strict restrictions on who could and could not access the online portal.
Most early e-commerce adopters restricted access to their web portals to their most valuable and loyal customers.
Companies were uninterested in promoting their brands online, social media was still in its infancy, and mobile-friendly websites did not yet exist.
2010-2015
The rapid adoption of web-enabled mobile phones caught LBM dealers off guard once more. Any previous investment they had made in their web presence was now completely out of date.
Today, mobile devices account for approximately 65 percent of all traffic to a dealer's website.
It was critical that websites became responsive to any device used by the end-user. As a result, most dealers rebuilt their websites to accommodate mobile phone functionality.
Because of the rebuilds, dealers were able to incorporate more e-commerce into their websites, and we saw an increase in clients requesting online product catalogs.
To pull product information from ERPs, our platform connects directly to our clients' "back-office computer." This feed enables the dealer to create a fully integrated product catalog that is completely maintained within their ERP.
Any changes made in the back-office computer were automatically pushed to the website, providing dealers with a dynamic data-driven web store (1:1 ratio with the website). E-commerce adoption was still limited, but access to ERP data was improving.
Social media existed at the time, but it was not particularly prominent in the LBM industry.
2015-2020
Customers began to see the advantages of channeling their e-commerce efforts. By this point, mobile sites had become extremely important.
It was a problem if your website couldn't be viewed on a phone. Customers began to warm to the idea of B2B e-commerce, preferring to sell to the loyal customers who visit their stores on a daily basis rather than opening up the catalog to everyone.
Many businesses opened e-commerce stores and websites began accepting payments via the internet over the course of these years.
Social media platforms such as Facebook and Instagram had exploded in popularity. They serve as both a point of contact and a source of general information or information about the products that they sell.
2020-2021
The pandemic has changed the way almost all LBM businesses can operate. Dealers are pushing hard for a more powerful, user-friendly, and well-stocked online store. This is a list of all the functionalities that have been requested to be developed since the pandemic began:
ACH – Account holders can use bank-to-bank bill payments to pay their statement balances or select invoices.
Created curbside pickup functionality, in which dealers meet customers at the curb with orders placed online.
Builder Dash is a feature that allows a specific product group to be delivered within two hours of ordering.
Locker integration for touchless pick up with bar code sent the mobile phone and scanned at the locker.
Online training portal – A large wholesaler in the United States is using the platform to train and educate their LBM customers on how to sell specific products.
GEO targeting so we can offer localized delivery to clients using credit cards and shipped on company trucks.
Curri Integration – Curri is a lumberyard delivery service that operates on an as-needed basis. Think of it as UBER Eats for lumber deliveries. It provides two-hour delivery.
We are currently developing a web-based product configuration system to allow the configuration of interior/exterior doors on our client's website.
We offer countless shipping options and we are integrated with UPS, FedEx, USPS, and multiple common carrier shipping companies that allow our clients to ship across the country.
Online scheduling for kitchen designers allowing the client to view the available time slots open and set up an appointment with the kitchen design team.
Multi-language support – Some of our clients are located near a large population of Spanish-speaking customers. The user can switch between languages using the system.
Video/Media Library – Dealers can upload training/product videos.
Split Shopping Cart – This enables dealers to sell both in-stock and special-order items in the same shopping cart. If the end-user orders a few items that are in stock and a few that are special orders, the shopping cart is divided into two shopping carts and two orders are submitted.
Search Engine Optimization & Reputation Management – LBM dealers now recognize the significance of driving traffic to their website. A website that does not gain new traffic or business provides no added value.

SEO is employed to increase organic traffic to a website. Using various SEO techniques in conjunction with on-page optimization assists dealers' websites in achieving the highest possible ranking on Google, Bing, and other search engines.

Another crucial realization is that off-page reputation management is required. One negative Yelp, Google, or Facebook review can tarnish the dealer's brand and image. LBM dealers are more concerned with obtaining positive reviews and comments on off-page sites.

Social Media Feeds – There are numerous advantages to linking your website to social media pages. Having the website directly connected to a company's socials is a tactic used to increase traffic, whether there is a promotion on a product or a new educational blog post. It increases the number of "entryways" to a website, implying that the website will appear more frequently in search results.
The global pandemic unexpectedly created a boom for lumber dealers. It also demonstrated how unprepared dealers were to provide clients with e-commerce access.
This recognition came at an ideal time in the evolution of dealers' e-commerce capabilities.
The younger generation has influenced business leaders to implement technological change and e-commerce capabilities.
APIs and web services have become more capable of accessing dealer data. Furthermore, e-commerce software has become less expensive, more functional, and simpler to implement.
The reasoning goes like this: if you can buy anything online, why not building materials?
The global pandemic shifted the mindset from "we want this in the future" to "we absolutely need this now."